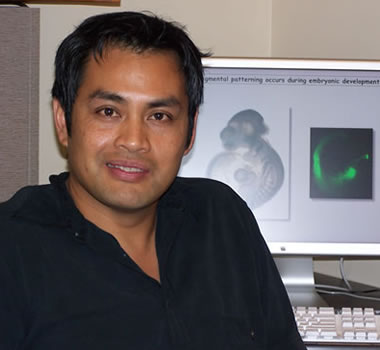 Assistant Professor Gary Gaufo
UTSA neurobiologist awarded $225K for brain research
By Kris Rodriguez
Public Affairs Specialist
(April 13, 2007)--UTSA Assistant Professor Gary Gaufo was awarded a three-year, $225,000 grant from the Whitehall Foundation to support his research in developmental neurobiology.
The Whitehall Foundation is a nonprofit corporation focused exclusively on assisting research in vertebrate and invertebrate neurobiology in the United States.
---
Today's headlines
Article tools
---
Gaufo studies the mammalian brain and his research focuses on identifying mechanisms that control the growth of nerve cells, which control a variety of bodily functions including chewing, facial expression, heart rate, breathing and digestion.
"We would like to understand how simple, evolutionarily conserved mechanisms are used to generate the network of neurons that produce complex behaviors associated with the head," said Gaufo. "With over 10 percent of birth defects in the U.S. affecting the cranial-facial region, we hope that our research will also provide insight into developmental disorders associated with the genes that we are currently investigating."
Before joining UTSA in 2005, Gaufo was a postdoctoral fellow at the University of California, San Francisco and the University of Utah Howard Hughes Medical Institute. In Utah, he studied under Mario Capecchi, a technological pioneer of genetic engineering. Gaufo earned bachelor's, master's and doctoral degrees in biology at the University of California, Berkeley.