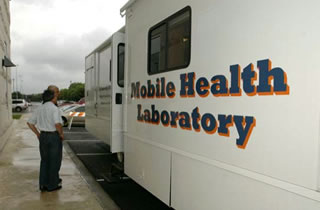 Top photo: From left are Betty Merchant (COEHD dean), Zenong Zin
(chair of the Department of Kinesiology) and Donovan Fogt
(assistant professor of health and kinesiology) in the UTSA Mobile
Health Lab. Center photo: A student participates in an x-ray
examination which analyzes bone density and body-fat percent.
Bottom photo: An exterior view of the new mobile lab.
(Photos by Mark McClendon)
UTSA education college unveils mobile health lab
By Ashley Harris
Public Affairs Specialist
(April 3, 2007)--The UTSA College of Education and Human Development unveiled the UTSA Mobile Health Lab on Friday, March 30 outside the Main Building on the 1604 Campus. Spearheaded by Zenong Yin, UTSA Loretta J. Lowak Clarke Distinguished Professor of Health and Kinesiology and department chair, the lab is the only one of its kind in Texas.
The mobile health lab will travel to inner-city areas of San Antonio and remote parts of South Texas where health promotion programs are not widely available to provide health screening services, healthy cooking sessions and multimedia based health education programs.
---
Today's headlines
Article tools
---
"This mobile health lab is an exciting new addition to our community outreach programs," said Betty Merchant, dean of the College of Education and Human Development. "We are reaffirming our commitment to the well-being of the local community as well as to South Texas by traveling to where community members live and work to deliver cutting-edge research programs, and health and nutrition information."
The 38-foot customized mobile home features a reception area, enclosed area for physical exams, area for drawing blood -- including a bench-top centrifuge and a freezer -- a fitness testing station, a kitchen area for nutrition education, computer stations for instruction and survey research, as well as an enclosed area for body composition analysis.
The prevalence of type 2 diabetes, much higher in South Texas than in other areas of the state, has increased three-fold in children with obesity over the past 30 years. Researchers project that if this dangerous trend is not addressed, one in four children born in the year 2000 will develop type 2 diabetes.
Knowing that obesity in children is closely linked to physical inactivity and poor dietary habits, a collaborative group of researchers and practitioners at UTSA, the University of Texas Health Science Center at San Antonio (UTHSCSA) and the Social and Health Research Center (SHRC) in San Antonio have developed prevention and treatment programs geared to this at-risk group. The UTSA Mobile Health Lab is a key component in delivering the treatment programs.
"This lab will allow us to enter a new phase of childhood obesity research," said Yin. "Rather than placing a burden on the parents of children participating in studies that require them to take off work and travel to testing centers, we can bring a uniformed testing center to them. Through this we can gather data from at-risk groups who normally cannot participate in study groups."
The UTSA College of Education and Human Development is the leading provider of educators in the San Antonio area and one of the largest in Texas. Ranked third in the Unites States as producer of teacher-education degrees for Hispanics, the college is responsible for innovative research and grants in professional development, technology enhancement, health, school readiness, and bi-national and bicultural issues.