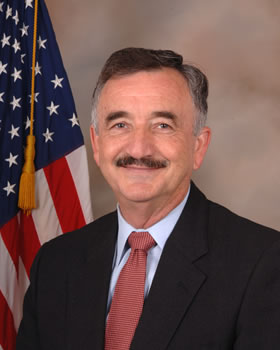 Rep. Ciro D. Rodriguez
Rep. Ciro D. Rodriguez to visit UTSA April 4
By Tim Brownlee
Assistant Director of Public Affairs
(April 3, 2007)--The UTSA community is invited to meet U.S. Representative Ciro D. Rodriguez from 2:30 to 3 p.m., Wednesday, April 4 in the John Peace Library Building food court at the 1604 Campus.
---
Today's headlines
Article tools
---
The congressman will provide an update on projects affecting UTSA and District 23. The visit is sponsored by the UTSA Student Government Association (SGA).
For more information, contact Adam Cowdin, SGA president, at (210) 458-4597.
------------------------------
Bio: Representative Ciro D. Rodriguez
Ciro D. Rodriguez was born in Piedras Negras, Coahuila, Mexico, and raised and educated in San Antonio. He graduated from Harlandale High School, received his B.A. degree at St. Mary's University and earned an M.S.W. degree from Our Lady of the Lake University in San Antonio.
Rodriguez recently was elected to represent Texas Congressional District 23, but his experience as a public servant in Texas goes back more than 30 years.
He began his career in public service in 1974 as a board member of the Harlandale Independent School District. At that time, he served as a social worker with the Bexar County Department of Mental Health and Mental Retardation and later became a trainer for the Intercultural Development Research Association. In, 1987, Rodriguez launched his legislative career in the Texas Legislature and began teaching for his alma mater, Our Lady of the Lake University.
While in the Texas House of Representatives, Rodriguez served on the higher education and health committees and worked to increase Texas high school graduation rates by drafting the landmark law guaranteeing acceptance of the top 10 percent of Texas high school graduates to any public four-year Texas university. He also was responsible for developing the dual-credit program, which allows high school students to earn college credit for advanced courses.
In a special election in 1997, Rodriguez ran for the U.S. House of Representatives District 28 seat and won with nearly 70 percent of the vote. He worked to eliminate unemployment along the border, to provide access and opportunity to small businesses, and to provide access and opportunity to small businesses through job training and health programs.
As a result of redistricting that the U.S. Supreme Court later declared unconstitutional, Rodriguez lost his seat in 2004. In 2006, he returned to the House of Representatives to represent Texas District 23.
District 23 is the largest in Texas, covering most of Southwest Texas and including portions of Bexar, El Paso and Sutton counties, along with Brewster, Dimmit, Maverick, Presidio, Zavala, Crockett, Culberson, Edwards, Hudspeth, Jeff Davis, Kinney, Medina, Pecos, Reeves, Terrell, Uvalde and Val Verde counties.
Today, Rodriguez serves on the powerful House Committee on Appropriations where he sits on the homeland security and transportation, and housing and urban development and related agencies subcommittees. He also serves on the House Committee on Veterans Affairs in the subcommittees on disability assistance and memorial affairs, and oversight and investigations. Additionally, he is chair of the Congressional Hispanic Caucus Task Force on Veterans Affairs.