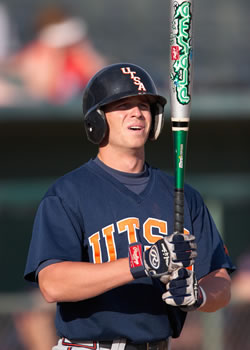 UTSA third baseman Ryan Saltzgaber
Ryan Saltzgaber: A man who wears many hats
By Brian Hernandez
UTSA Associate Sports Information Director
(April 16, 2007)--The demands of being a college student can be overwhelming at times. Time management and setting priorities are of the utmost importance if you are going to be successful. When you add in playing baseball and marriage to the equation, the challenges become greater.
Senior third baseman Ryan Saltzgaber has taken on all those challenges and is proof that they can be done the right way and with great success.
---
Today's headlines
Article tools
---
A native of Abilene, Saltzgaber has been a starter from the day he set foot on the UTSA campus three years ago. He has played 141 games, starting 140, but more importantly, he has taken on the role of husband in addition to his responsibilities in the classroom and on the playing field.
Saltzgaber married his high school sweetheart, Dayna Williams , on Jan. 6. It was a courtship that began when they were seniors at Wylie High School. However, the two had to endure being apart for nearly three years, as he began his playing career at Kansas State while she went to school at North Texas. After just one year at K-State, Saltzgaber elected to transfer to UTSA, but the two remained miles apart.
However, with Dayna preparing to student teach in San Antonio this spring, they decided to tie the knot right after the New Year and the relationship has flourished ever since.
"It was very tough being so far apart for the last three years," Saltzgaber said. "But now that we're together, it's made things so much easier. Having her here helps me a lot with school and baseball going on at the same time. She does a great job of keeping me level-headed and on track."
In the past, a bad game would cause a night's worth of frustration to the point where Saltzgaber would be on the phone with his father all night. Now that he's married, he knows he has to leave the game on the field when he walks in the door at home.
He attributes his strong start to the year to the fact that he no longer lets poor performances fester when he leaves the ballpark.
"When I get home, I have to remember I'm a husband who needs to take care of my wife's needs first," Saltzgaber said. "I think that has really helped me relax this season. It's my last year and I want to have as much fun as I can playing the game. If I have a bad day, I know there's always a game tomorrow."
That new-found patience was put to the ultimate test to start the season, as the Roadrunners dropped six in a row to open the campaign and nine of 13 overall. However, Saltzgaber knew that this year's team had the potential to do some special things. Since March 9, the club has won 15 of 20 games and started the Southland Conference season 11-1, including wins in its first 10 contests. That 10-0 start is tied for the second-best start in league history.
"Things started off a little rough with us going 0-6," he said. "I knew we hadn't completely gelled at that point and now we're really showing the potential we have. Things started to turn around when we played the College of Charleston last month. That's when we started to play complete games. Up to that point, we were having a hard time putting all three phases of the game together."
Saltzgaber, who has started all 33 games at third base this year, entered last weekend's three-game home series against Northwestern State with a .328 batting average with seven doubles, two triples, four home runs and 23 RBIs. A preseason second-team All-SLC selection prior to the season, he has been especially hot of late, recording two or more hits in nine of his last 13 contests.
Head coach Sherman Corbett said his third baseman is an example of how to do things the right way.
"Ryan is a foundational member of this team," Corbett said. "He is a mature young man that understands his purpose in life. I admire his commitment to his faith, marriage, school and baseball. Ryan is very well grounded in the priorities of life and he can handle the challenges that are presented to him every day. He is a role model that others should follow."
Saltzgaber has just as much respect for the man who led him the past three years.
"Coach Corbett has meant so much to me," he said. "I really look up to him because he runs a great program and is such a quality person. He constantly is building us up with positive reinforcement and that goes a long ways in building your confidence."
Saltzgaber is on track to graduate with a degree in history in the fall and he aspires to coach when his playing career is over. However, for the time being, he is looking forward to seeing how the final 21 regular season games on the schedule play out.
"This group of guys really wants to win a championship and it's been so much fun to be a part of it," he said. "We need to stay focused on continue to do what we've been doing the last month. If we can do that, we really have the chance to do some special things."