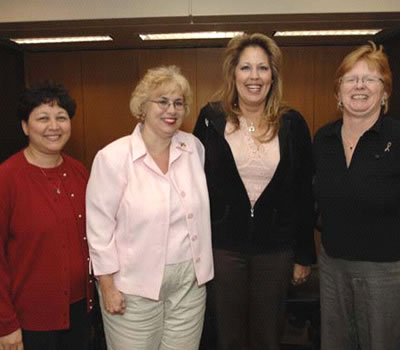 From left are travel management staff members Lupita Reynaga, Perian (Perry) Griner
and Celine Weidner with Deborah Bailey, travel management manager.
(Photo by Mark McClendon)
Team Spirit Award: Office of Travel Management
By Shelley Kilpatrick
Student Writer, College of Liberal and Fine Arts
(April 15, 2007)--Staff from the UTSA Office of Travel Management staff members will be honored with the Team Spirit Award, one of five that will be presented at 2 p.m., Tuesday, April 17 at the UTSA Staff Excellence and Service Awards ceremony in the University Center Retama Auditorium (2.02.02), 1604 Campus.
The Travel Management staff members are Lupita Reynaga, accounting technician; Perian (Perry) Griner, accounting technician; and Celine Weidner, accounting clerk III.
---
Today's headlines
Article tools
---
The five Staff Excellence Awards recognize excellent work performance in emerging leadership, dynamic leadership, teamwork, extraordinary initiative and overall excellence.
This year's additional award winners are:
Rising Star Award: David Kessler, academic advisor I, College of Liberal and Fine Arts Advising Center
Leadership Award: Jeanette (Jenny) Stokes, senior administrative associate, Department of Interdisciplinary Learning and Teaching
Extra Mile Award: Patricia Dunn, educational specialist III, UTSA's Institute of Texan Cultures
Order of the Roadrunner Award: John Soudah, director of academic computing, College of Business and Office of Information Technology
In one of five award spotlights featured on UTSA Today, the Team Spirit Award goes to a group of university staff members who have demonstrated exceptional ability to foster collaboration, communication and cooperation among colleagues within and outside their department. The team has significantly improved customer service, customer service satisfaction and notably improved productivity and efficiency.
------------------------------
Office of Travel Management
Team Spirit Award winners
In the short amount of time the Office of Travel Management has been a stand-alone office, three staff members have made an enormous impact by keeping it running smoothly and efficiently. Lupita Reynaga, Perian (Peri) Griner and Celine Weidner come together every day with the goal of assisting UTSA faculty, staff and students in all their travel needs.
Lupita Reynaga processes the foreign travel reimbursements and developed a spreadsheet that has made the procedure so quick it takes only five to seven working days. One of her nominators said, "I recently had a staff member tell me that their traveler had his reimbursement in a two-day turnaround. This was unheard of a year ago. She also handles the direct-bill accounts, and because of her exceptional communication the vendors are happy and the university saves money."
Peri Griner's daily task is the processing of out-of-state travel reimbursements. According to one of her nominators, "Peri not only meets our goal, I know for a fact that most days she surpasses it and even manages to process some of the reimbursements with only a one-day turnaround." She also is responsible for reconciling travel credit card accounts, and through her determination and hard work she managed to balance one credit card from a $250,000 outstanding balance to only $10,000.
One of Celine Weidner's daily duties is to answer the main line of the Office of Travel Management. One of her nominators said, "Celine's smile radiates so much, I believe you can see it right through the phone. She is responsible for keeping the voucher spreadsheets up to date, and because of her superb organizational skills, the department can now use the extra time to focus on meeting their daily goals."
According to a nominator, "Not only do these three ladies take their job duties very seriously, but they also know how to have fun. I believe our UTSA travelers are much happier people due to the commitment and dedication of these three very fine ladies."
-----------------------------
UTSA employees are invited to attend the event hosted by Sonia Martinez, vice president for university advancement; Rosalie Ambrosino, provost and vice president for academic affairs; and Jeffrey Kantor, associate vice president for research. The ceremony also will include remarks by President Ricardo Romo.
Downtown Campus and Institute of Texan Cultures staff members can attend the event utilizing VIA buses 93 or 94 at no charge by showing their UTSACard.
The ceremony will include retiree recognition, service pin awards for 5 to 30 years and refreshments. Twenty-five staff members will be honored on their retirements and 274 staff members will receive UT System service awards for the 2006 calendar year.
Read more about the Staff Excellence Awards and previous winners at the Human Resources Web site.