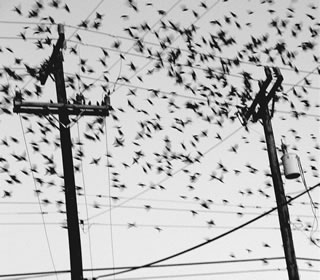 From top, photographs by Arturo Almeida: "When All the Birds Are
Singing in the Sky" and "We Had Seasons in the Sun"
Grona Gallery exhibits photos by UTSA art curator
By Tim Brownlee
Assistant Director of Public Affairs
(May 4, 2007)--The Joan Grona Gallery presents an exhibit of photographs by Arturo Almeida, UTSA Art Collection curator, through May 27.
---
Today's headlines
Article tools
---
Free and open to the public, the exhibit is at Blue Star Arts Complex Suite 112 at S. Alamo and Probandt streets, south of downtown San Antonio.
"The photographs in the exhibit are based on popular song lyrics I grew up with in the '70s," said Almeida.
Established in 1992, the Joan Grona Gallery represents local, national and international artists. The gallery fosters an understanding and appreciation of art in a friendly environment through exhibitions, lectures and guided tours.
The gallery collection includes a broad range of innovative, original art works by established and emerging artists. Paintings, sculpture, photography, installation and works on paper are available.
Gallery hours are 11 a.m.-5 p.m., Wednesday-Friday, 11 a.m.-6 p.m., Saturday and noon-4 p.m., Sunday, or by appointment. The gallery will be open until 9 p.m., Friday, May 4, as part of the monthly First Friday gallery open house.
For more information, contact Joan Grona at (210) 225-6334.