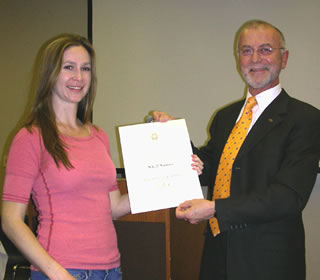 Top photo: Student Russell Kenyon and Julius Gribou, College of
Architecture dean. Bottom photo: Student Nikki Manning and Gribou
UTSA architecture college awards $37K in scholarships
By James Benavides
Public Affairs Specialist
(May 8, 2007)--Nearly $37,000 in scholarships was awarded April 18 to 32 students at the UTSA College of Architecture Awards and Scholarship Assembly.
---
Today's headlines
Article tools
---
Along with private donors, foundations and professional organizations, the university recognized the students for academic achievement and architectural innovation. Award recipients are listed below.
As the highest-ranked graduating senior in architecture, Russell Kenyon received the American Institute of Architects' Henry Adams Medal. The Henry Adams Certificate for the second-ranking student was awarded to Nikki Manning.
Cited for leadership, service and the promise of professional merit, Devin Oatman was awarded the Alpha Rho Chi Medal from the National Professional Fraternity for Architecture and the Allied Arts.
The UTSA College of Architecture is the second-largest architecture program in Texas and one of the fastest growing UTSA colleges with 953 students enrolled. The college will graduate 62 architecture majors and 27 interior design majors this year.
For more information, contact the UTSA College of Architecture at (210) 458-3010.
------------------------------
UTSA College of Architecture Awards and Scholarship Assembly awardees
USAA Foundation Scholarship
Audra Tiemann
Ruben Lara
Carlos Villagomez
Aida Berkley
David Matiella
Miguel Saldana
Ryan Jensen
Charles Schneider
College of Architecture General Scholarship
Lindsey Scott
Miles Vanderwalle
Bradley Green
Presidential Scholarship
April Rasco
Yuta Kyoya
Fanney Fatalla
Charles Schneider
Elizabeth Haynes
David ZIF
Tara Fitzpatrick
Ryan Weekley
AIA/San Antonio Chapter Scholarship
Jose Guerrero
Richard Thurman
Tamara Mackell
Bill and Diane Hays Endowed Scholarship in Architecture and Interior Design
Nicole Nelson
Lloyd Jary Scholarship
Nicole Nelson
Fanney Fatalla
Monte Vista Donald E. Everett Scholarship in Historic Preservation
Miguel Saldana
Daniel Lazarine
San Antonio Masonry Contractor's Association Scholarship
Javier Ramos-Garcia
Gene George Endowed Architecture Scholarship in Historic Preservation
Kent Brittain
Rinaldo J. Gonzalez and Alicia C. Trevino Endowed Scholarship in Architecture
Samira Ahmadi
San Antonio Conservation Society Eleanor Freeborn Bennett Educational Scholarship
Elisa Vasquez
Whitney Mida