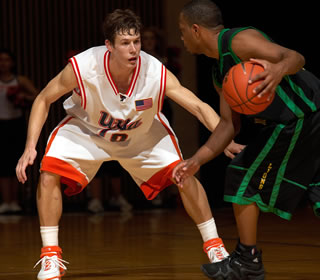 Kurt Attaway
Kurt Attaway wins SLC citizenship award
By Kyle Stephens
UTSA Sports Information Director
(May 16, 2007)--UTSA's Kurt Attaway and Texas-Arlington's Dorothy "Dee Jay" Nelson were chosen as the 2007 recipients of the Southland Conference's Steve McCarty Citizenship Awards. The pair will be recognized at the SLC Honors Ceremony on Thursday, May 31, at the San Luis Resort Spa and Conference Center in Galveston, Texas.
---
Today's headlines
Article tools
---
The Steve McCarty Citizenship Award recognizes a Southland Conference male and female student-athlete who exhibits outstanding qualities in citizenship, sportsmanship, leadership and community service. In addition to the overall conference recipients, others nominated also will be honored with campus awards.
McCarty retired from Stephen F. Austin State University (SFA) on Aug. 31, 2005. The Alto, Texas, native had been with SFA for 21 years, the last 15 as athletics director. McCarty is a two-time graduate of the university and is also a member of the SFA Alumni Association's "Football Coaches Hall of Honor." In addition, he was inducted into the Southland Conference Hall of Honor in 2006.
"We are thrilled to honor Kurt and Dee Jay with the Steve McCarty Citizenship Awards," Southland Commissioner Tom Burnett said. "When the McCarty Award was originated in 2005, these were exactly the kinds of student-athletes we wanted to honor. Both Kurt and D.J. have performed admirably in the classroom and the athletic arena, but what sets them apart is their commitment to and involvement with others."
Attaway, a men's basketball player from Marcus High School in Flower Mound, Texas, is a two-time SLC Men's Basketball Student-Athlete of the Year and three-time SLC All-Academic First-Team member. He has a perfect 4.0 grade point average in his psychology major and recently graduated with his bachelor's degree.
Following the 2004, 2005 and 2007 academic years, Attaway was selected as the Pat Clynes Male Student-Athlete of the Year, awarded to the UTSA student-athlete achieving the highest degree of excellence academically, athletically and socially. Each semester during his four years at UTSA, Attaway was named to the UTSA Dean's List and three times to the CapitalOne Bank/SLC Commissioner's Academic Honor roll.
He is a three-time ESPN The Magazine Academic All-District VI First Team honoree, a 2006 Coach Wooden Citizenship Cup Award honorable mention candidate and was one of 11 players nationally named to the 2006-07 Division I-AAA Athletics Directors Association All-Academic Team.
On the court, Attaway was a four-year starter at point guard for UTSA. He was named 2003-04 SLC Freshman of the Year after leading the Roadrunners to league regular-season and tournament championships. Attaway finished his UTSA career in fourth place on the career steals (162) and assists (371) lists and 31st in points (661) and rebounds (281).
As a student leader of the UTSA Fellowship of Christian Athletes, Attaway is primarily responsible for establishing the group as a registered student organization and building a huddle leadership team that took weekly attendance from 15 or less three years ago to more than 50. He frequently speaks to middle school and high school huddles, and has served as the keynote speaker at the UTSA FCA Day of Champions.
In spring 2005, UTSA started its graduate social work program with 17 students including Bobby Joe Alexander, a Fort Worth native who grew up around drugs, gangs and teen pregnancies.
Throughout his college career, Attaway made visits with teammates to the Methodist Children's Hospital and spent summers working with youth at Kanakuk Camps in Branson, Mo.
During the first semester of his senior year, Attaway worked as an intern in the UTSA Athletics Department, helping raise scholarship dollars and increase community awareness of UTSA Athletics. Immediately following an in-home talk by Attaway to a group of potential donors, a woman turned to her husband and said abruptly, "Where's the checkbook, I'm sold!" The couple donated $5,000 to the Adopt-A-Roadrunner scholarship program, even though neither had ever attended a UTSA athletic event.
Attaway married Lauren Allen last summer at the Houston Vineyard Church, the church where they met 16 years earlier. Their fathers worked as associate pastors of the Church in the City (now Houston Vineyard) staff in 1990. Rev. Bob Attaway, now of Vista Ridge Vineyard Church in Lewisville, Texas, and Rev. Alan Allen, now of Pearland Vineyard Church in Pearland, Texas, performed a "tag-team" service in marrying their son and daughter July 22, 2006. Attaway hopes to follow his father and father-in-law into the ministry after graduation. Already, two churches in the San Antonio area have offered him ministry positions.
Attaway is the second consecutive UTSA student-athlete to earn the honor on the men's side as former track and field standout and current assistant coach David Burnett picked up the inaugural award last year.
Nelson has served as a leader and captain both on and off the softball field. While establishing a new career home run record at UTA during her senior year, Nelson has shown great sportsmanship, often deflecting compliments by asking what else she can do to help the team.
A first baseman on the regular season champion Mavs, Nelson serves as the UTA representative on the SLC Student-Athlete Advisory Committee and has been on the school's SAAC for four years. She is also a part of the UTA Intercollegiate Athletics Compliance Committee where she represents the interests of the student-athletes. She is the first female athlete to be a two-time recipient of the BG Wilson Scholar-Athlete of the Year award, which requires excellence in sports, academic and citizenship.
Nelson's community service projects have created an atmosphere of giving among her teammates. Her leadership inspired the creation of the STAR award for team excellence, which was given to the softball team in 2005-06 to commemorate their outstanding community service. Under her leadership, the softball team has participated in the Love Luggage Project (hand-painted hard side luggage for Foster Children of Texas). This luggage was on display in the Longview Museum of Art for fundraising efforts during Foster Children Awareness Month. The team also decorated Luminaria bags for Relay for Life (over 500 bags which were sold in honor or in memory of a cancer patient).
Nelson and her teammates also participated in Dark in the Park Halloween activities for the Boys and Girls Club of Arlington, Walk for Shoes to raise funds to buy shoes for needy children and collected canned food for Mission Arlington.
All this while maintaining an "A" average in her economics major.