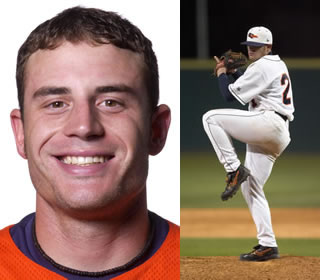 Josh Blakley
Josh Blakley: Heart, determination of a champion
By Brian Hernandez
UTSA Associate Sports Information Director
(May 17, 2007)--UTSA senior Josh Blakley will be the first person to tell you he doesn't have the prototypical size or overpowering arsenal of pitches that Major League scouts look for in a pitcher. What the senior right-hander does have, however, is the heart and determination of a champion. A winner throughout his high school and collegiate career, Blakley has continued that trend, in this, his final season as a Roadrunner.
---
Today's headlines
Article tools
---
Entering this week's three-game series against I-35 rival Texas State, a series in which UTSA needs just one victory to clinch the No. 1 seed at next week's Southland Conference Tournament, the senior from Lorena has a statistical line that any pitcher in the country would crave.
Blakley is a perfect 6-0 with a save and team-best 2.37 ERA (third SLC) in 60.2 innings of work. He also has recorded a sterling 54-to-11 strikeout-to-walk ratio in his team-leading 24 appearances. A true middle reliever, the 6-foot-1, 195-pounder has gone at least four innings in eight contests this season and three in two others. His numbers in league play are even more amazing, as he ranks second in the conference with a 1.29 ERA to go along with his 4-0 mark and 32 punchouts in 35 frames. Blakley has not allowed a run in his last nine outings, which covers a span of 16.2 innings.
"I just go out there and compete every time I'm on the mound," Blakley said. "I know I'm undersized and don't throw hard, but pitching is more about throwing strikes and hitting spots. My job is to get us to the ninth inning with a chance to win."
A football player at heart -- he graduated as the leading tackler in Lorena High School history -- Blakley decided baseball was his ticket in college. It was a sound decision, considering he was coming off a senior campaign that saw him earn first-team all-state and All-Centex co-MVP honors (14-0, 0.87 ERA, .434 BA), as Lorena went undefeated (31-0) en route to the 2003 Texas 3A Championship. He is one of nine players from that championship squad that went on to play collegiately, as he signed with Blinn Junior College. However, he went as a third baseman and not a pitcher.
After a fall season that saw him struggle with the bat, the Blinn coaching staff decided to give him a try on the mound and the rest, as they say, is history.
Blakley went on to a stellar two-year junior college career that saw him post a 14-5 record and 3.21 ERA as a starter, including a sophomore season in which he earned all-conference honors. That year also saw Blinn go 45-16 and finish with a No. 3 ranking in the country.
Blakley is on pace to break UTSA's single-season ERA record. That grabbed the attention of the UTSA coaching staff and Blakley became a Roadrunners relief pitcher in 2006. He had a solid first season, recording a 3-2 record with a save and 3.32 ERA in 43.1 innings of work (24 games).
"Josh definitely gets the most out of his ability," head coach Sherman Corbett said. "He always has a plan and purpose when he takes the mound and does a great job of executing it. It's easy to overlook what he's done from the outside, but every one on this team and in the league knows how valuable he has been this season. We wouldn't be where we are right now without him pitching the way he has."
Blakley attributes his competitive drive and will to win to his father, David, who was his defensive coordinator in high school.
"My dad has always been my role model," he said. "He has always pushed me to be successful and is one of the best motivational speakers I've ever been around. I hate to lose and expect to be successful every time I take the field."
Blakley, who is on track to graduate in December with a business degree, hopes to get a shot at the next level when this year is over. If that doesn't work out, he'd like to give coaching a shot.
However, with the Roadrunners' first regular season conference championship in the bag, his focus is helping his teammates finish strong with a SLC Tournament Championship and trip to the NCAA Tournament.
"I want us to be one of the teams that Coach Marshall brings up when he gives us his thought of the day, one of the teams that players down the road look up to and remember."