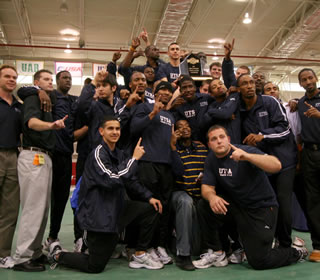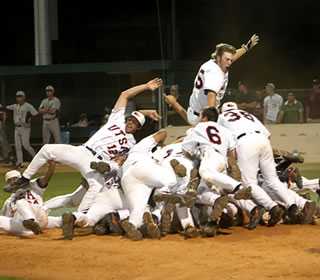 Top photo: UTSA track and field team
Bottom photo: UTSA baseball team at winning moment
UTSA finishes second in SLC Commissioner's Cup
By Kyle Stephens
UTSA Sports Information Director
(May 23, 2007)--Behind regular season championships won by the baseball and men's indoor track and field teams, UTSA finished second behind Sam Houston State in the 2006-07 Southland Conference Commissioner's Cup race released by the league office Monday, May 21.
UTSA tallied 136.5 points for runner-up honors for the second straight season, finishing just one point behind Sam Houston State's 137.5.
---
Today's headlines
Article tools
---
"To be in contention for the Commissioner's Cup down to the final sport for the second straight year is a credit to our student-athletes, coaches and support staff," Athletics Director Lynn Hickey said. "The time, hard work and dedication put in by all of our teams does not go unnoticed, and to be second among 12 strong athletics departments is a great honor for UTSA. Our goal is to contend for both all-sports trophies and the Commissioner's Cup on an annual basis, and we have done that for the last two seasons. At the same time, we'd like to bring the Cup to San Antonio in the immediate future."
Sam Houston State also won the SLC Men's All-Sports Trophy with 66.5 points, just ahead of UTSA (62.0), which won the award in 2005-06. Texas State won the SLC Women's All-Sports Trophy with 82.0 points, while UTSA was second with 74.5.
The Roadrunners also posted runner-up finishes in soccer and men's outdoor track and field and finished third in men's golf and men's tennis. Sam Houston State won regular season crowns in women's golf and women's indoor track and field and finished second in men's basketball, softball, women's tennis, women's outdoor track and field.
The SLC Men's and Women's All-Sports Trophies are awarded annually for competition based on the 12-point system for all Conference sports. Point values are 12 for first place, 11 for second, 10 for third and so on. Points are awarded regardless of the number of teams competing in the championship. The Commissioner's Cup is awarded to the university compiling the highest combined total of men's and women's all-sports points.
------------------------------

UTSA in the SLC Commissioner's Cup standings
2006-07 -- 2nd (136.5)
2005-06 -- 2nd (121.0)
2004-05 -- 5th (106.5)
2003-04 -- 4th (147.0)
2002-03 -- 7th (121.5)
2001-02 -- 2nd (152.0)
2000-01 -- 3rd (153.0)
1999-2000 -- 6th (128.5)
1998-99 -- 5th (127.5)
1997-98 -- 6th (116.0)