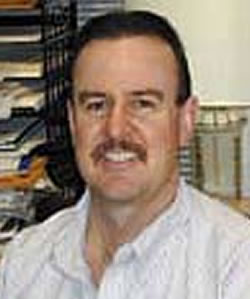 Richard Gambitta (top), Richard Utecht and Misty Sailors
Faculty Honors: Richard Gambitta, Richard Utecht and Misty Sailors
By Shelley Kilpatrick
Student Writer, College of Liberal and Fine Arts
(May 10, 2007)--Associate Professor Richard Gambitta received the President's Distinguished Achievement Award for Teaching Excellence, Tenured Faculty and the Chancellor's Council Outstanding Teaching Award at the UTSA Faculty Honors Convocation May 3.
---
Today's headlines
Article tools
---
Associate Professor Richard Utecht also received the President's Distinguished Achievement Award for Teaching Excellence, Tenured Faculty.
Assistant Professor Misty Sailors was honored with the President's Distinguished Achievement Award for Teaching Excellence, Tenure-Track Faculty.
The convocation honors recipients of teaching, research and service awards and acknowledges recent retirees.
------------------------------
Richard Gambitta
Richard Gambitta is an associate professor of political science and geography in the College of Liberal and Fine Arts and director of the Institute for Law and Public Affairs.
He is known for effective teaching to a broad range of students. This is evident in his continuously high teaching evaluation scores. His rank is often at the 5.0 level in the "excellent teacher" and "excellent course" categories.
According to one of his students, "Dr. Gambitta is the epitome of a great teacher. It's incredible how extensive his knowledge is. He is very dedicated to his students, in fact I've never had a better teacher."
Another student said, "Dr. Gambitta is by far the best professor I have had. His summer program awakened my once dormant seed of intellectualism. He motivates his students unlike anyone else."
He shows his support for students by writing letters of recommendation for 50 students per year.
Additionally, Gambitta wants all of his students to have the necessary materials for class, so he utilizes WebCT in ways that are quite unique. He puts vast amounts of course information on the Web site including the syllabus, case studies, copies of the Constitution and audio tapes of oral arguments, and he retains high attendance from students.
In addition to Gambitta's normal teaching duties, he and President Ricardo Romo initiated the Summer Law School Preparation Academy. He teaches two courses during the summer program, and his students acknowledge that this commitment has changed their lives.
His first class from the Summer Academy has now passed the bar exam and will contribute to more effective representation and justice in Texas.
One nominator for the Distinguished Achievement Award said, "His teaching, mentoring, caring and networking for his students have made an enormous difference. Richard Gambitta epitomizes what this award is all about."
-----------------------------
Richard Utecht
Richard Utecht is associate professor in the Department of Marketing Department. He teaches three courses each semester and splits his time between the 1604 Campus and Downtown Campus.
In addition to his normal teaching schedule, he taught a fourth course, Freshman Seminar, for the Learning Communities Program and developed a Doctoral Teaching Seminar at the request of Lynda de la Vina, dean of the College of Business.
Utecht said, "After 25 years at the university level, I still consider teaching to be the most personally rewarding activity associated with being a college professor. Students who attend my classes to gain knowledge in the marketing discipline deserve an environment in which they can learn and express their creativity."
Utecht's approach to teaching hinges on two components -- motivate the student and provide a structured learning environment. He motivates the students by learning all their names immediately, role-playing, positive reinforcement, setting high goals, justifying the discipline and encouraging students to form their own learning communities outside of the classroom.
Additionally, he advises students about graduate school, interviewing techniques and resumes and gives general career counseling. He encourages students to develop a philosophy of their discipline. At the beginning of the semester, students learn to develop a mental framework of marketing that helps them to understand the entire field.
According to Utecht, "It is my goal that when the semester is finished the student will be rendered independent of me and able to paint their own picture of the discipline," said Utecht. "I am extremely pleased when students contact me after their graduation and express their appreciation."
------------------------------
Misty Sailors
Misty Sailors is an assistant professor in the Department of Interdisciplinary Learning and Teaching. She stands out because of her deep concern for her students.
She develops her courses so that each of her students experiences success and gains the skills and knowledge to become effective classroom teachers. She not only teaches students how to educate others, she also teaches them how to build a community in the process.
Sailors has been a leader in the ILT department because of her innovative ways to deliver curriculum. She has been especially helpful in modeling ways to integrate technology into her teaching methods.
Sailors maintains high standards for her students at the undergraduate and graduate levels, and mentors them for the professional role of teacher. But, beyond the classroom she works closely with them on research and writing skills.
She also mentors adjunct professors and lecturers in the department by meeting with them regularly to help them with methods and materials to meet the requirements for their courses to help them be successful.
Sailors consistently receives high scores on the student evaluations for her overall teaching quality, no matter what course she is teaching. Additionally, she received an award in 2004 from the Honors Alliance for "excellence in promoting intelligent living, meaningful learning and the ideas and virtues of academic integrity and honesty," and was nominated in 2005 by one of her undergraduate students for Who's Who Among America's Teachers.
According to one nominator, "Misty Sailors embodies the commitment and qualities of what we would like to see in all of our UTSA instructors. She is an outstanding teacher!"