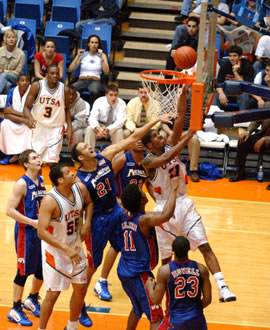 UTSA Roadrunners basketball
UTSA completes phase one of NCAA athletics self-study
By Marianne McBride Lewis
Director of Public Affairs
(May 21, 2007)--The University of Texas at San Antonio has completed the first phase of a yearlong self-study to review the university's 16 athletics programs for compliance with National Collegiate Athletics Association (NCAA) Division I rules and regulations. NCAA requires Division I members to participate in the athletics certification program and be reviewed every 10 years. UTSA's last review was in 1998.
---
Today's headlines
Article tools
---
UTSA submitted to NCAA Division I officials May 1 a 101-page self-study report addressing the required areas of study: academic integrity, governance and commitment to rules compliance and equity, and student-athlete well-being. The four-month self-study review included a series of public forums and research contributions from the UTSA Department of Intercollegiate Athletics, Office of the Registrar, Office of Institutional Compliance and Office of Student Affairs. UTSA officials conclude that no material findings of non-compliance were discovered in the athletics program.
"Our primary message is that Athletics Director Lynn Hickey and her organization have established a sound foundation of compliance with NCAA operating principles as we embark on potential major expansions of the athletics program at UTSA," said Robert McKinley, chair of the university's 30-member NCAA recertification self-study committee and associate vice president of the UTSA Institute for Economic Development.
Next steps include the NCAA staff review of the self-study and responses to questions that arise over the summer, followed by an on-site review team visit October 14-16. The NCAA Committee on Athletics Certification will issue the final recertification determination in January 2008.
Download the UTSA athletics self-study (PDF document).