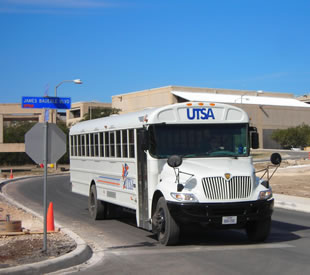 UTSA shuttle bus
May, summer shuttle schedules announced
By Jane Wilcox
Associate Director, Parking and Transportation Services
(May 3, 2007)--The UTSA Office of Parking and Transportation Services announces the shuttle schedule for the intersession and summer.
---
Today's headlines
Article tools
---
------------------------------
Off-Campus Apartment Shuttles
The north and south off-campus apartment shuttles provided by Star Shuttle will operate weekdays through Friday, May 11. This includes service on one Saturday only (final exam day), 7:30 a.m.-5:30 p.m., May 5.
There will be no off-campus apartment Service from Monday, May 14 through Friday, Aug. 17. Service returns to the normal schedule Monday, Aug. 20.
Campus Shuttles
The north and south campus shuttles will operate on normal schedules, 7 a.m.-7:30 p.m., Monday-Friday through the summer.
There will not be service Monday, May 28 (Memorial Day) and Wednesday, July 4 (Independence Day).
Shopping Shuttle
The shopping shuttle will operate on the normal schedule, noon-4 p.m., Saturday, through the summer.
Lot 13 Shuttle and Parking
The lot 13 shuttle will operate normally weekdays through Friday, May 11.
This route will not operate again until Wednesday, Aug. 22 (first day of fall classes).
Lot 13 will be closed Friday, May 11-Tuesday, Aug. 21.
Remote permit holders can park in general permit spaces while lot 13 is closed.
Parking Permits
Parking permits are always required at UTSA. On any day of the year, ticketing will result if there is no permit or an expired permit.
Visitor Booths
May 14-28 visitor booth hours will be 7:30 a.m.-4:30 p.m.
Regular hours will resume Tuesday, May 29: Monday-Thursday, 7:30 a.m.-6:30 p.m. and Friday, 7:30 a.m.-4:30 p.m.