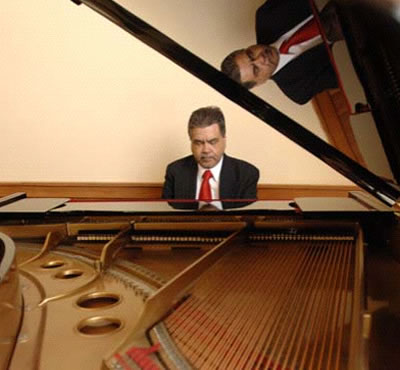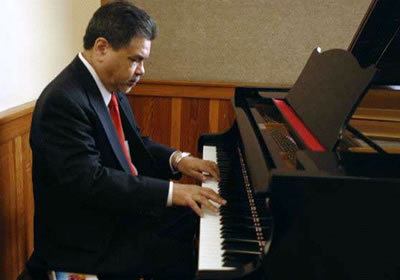 Vice Provost Jesse Zapata tickles the keys.
(Photos by Mark McClendon)
UTSA magazine seeks people with unique talents
By James Benavides
Public Affairs Specialist
(May 24, 2007)--Do you know a math professor who is a gourmet chef? How about a Ph.D. candidate who is a certified welder or a staff member with a pilot's license? Who at UTSA ever ran a marathon? Does someone at the university have a comic book collection that goes back to the 1960s?
If you are a UTSA student, faculty or staff member with a unique talent, you could be featured in an upcoming issue of UTSA's Sombrilla magazine.
---
Today's headlines
Article tools
---
Life for UTSA students, faculty and staff continues off campus and after hours. Even among peers, many have no idea what the person sitting next to them can do. Many members of the UTSA family have skills completely different from their duties in the classroom or office.
UTSA President Ricardo Romo has a well-known love of art and was an accomplished athlete in his college years. Jesse Zapata, vice provost for the UTSA Downtown Campus, often plays the piano for "Jazz in the Plaza" during Homecoming and at other campus events. John Davis, executive director of UTSA's Institute of Texan Cultures, is an experienced black powder rifleman.
If one of your professors or the person in the next office has a hidden talent such as playing the bagpipes, an unexpected hobby such as making wine or another unique ability -- contact Lety Laurel, associate editor of Sombrilla magazine, at (210) 458-3139.