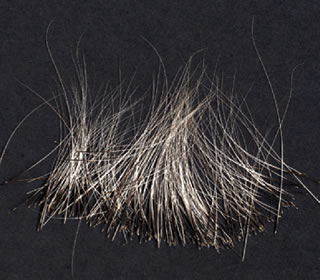 "Whisker Falls, Softly on Carpet, Multiple Times," digital
photograph, 2007, by Chris Kubick and Anne Walsh
Satellite Space presents audio-photo show through May 20
By Jasmyne Graybill
Graduate Research Assistant, Department of Art and Art History
(May 14, 2007)--The UTSA Department of Art and Art History and the UTSA Satellite Space present the photography and audio exhibit, "New Work: Chris Kubick and Anne Walsh," through May 20.
Free and open to the public, view the exhibit at the UTSA Satellite Space in Blue Star Arts Complex Suite 115 at S. Alamo and Probandt streets, south of downtown. Gallery hours are noon-6 p.m., Friday-Sunday, or by appointment.
---
Today's headlines
Article tools
---
The new work by Chris Kubick and Anne Walsh is drawn from their recent exploration of Hollywood sound-effects libraries, used by sound-effects editors and sound designers to create the audio worlds in contemporary cinema. Few of the sounds heard in a film are recorded on location, but usually come from sound libraries -- like the ones Kubick and Walsh explore in this show.
Their work ranges from seemingly straight-forward gestures, such as the sound installation, "Fireplace/Wax Paper Rustling, Gently, 6 Times," which is made from several pieces of crumpled wax paper in a Plexiglas cube, to technologically complex works such as "Flesh ++ Blood," a sound and text piece that uses only sounds that reference "flesh" or "blood" in their titles.
In this exhibition, Kubick and Walsh grapple with the sound of meaning and the meaning of sound. These works speak not only about the culture of Hollywood movies but also about the culture that produces them.
Artists Chris Kubick and Anne Walsh work collaboratively under the name ARCHIVE, and live and work in Oakland, Calif. They work with a variety of formats and tools including performance lectures, spoken-word CDs, video games, exhibitions and works on paper. From 2001 to 2004, ARCHIVE produced the project, "Art After Death," that debuted at the 2002 Whitney Biennial exhibition.
------------------------------
For more information or to arrange a private viewing, e-mail Jasmyne Graybill or contact the Department of Art and Art History at (210) 458-4352.