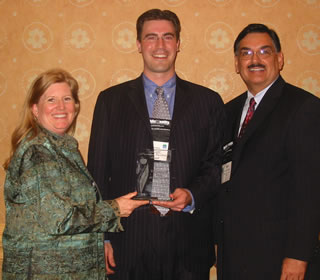 From left: Gage Paine, UTSA vice president for student affairs;
Brandon Busteed, founder and CEO of Outside the Classroom and
Sam Gonzales, UTSA assistant vice president for student services,
with the Prevention Excellence Award
UTSA honored for alcohol prevention program
By Tim Brownlee
Assistant Director of Public Affairs
(June 26, 2007)--UTSA was one of 13 institutions honored recently at the 2006-2007 Prevention Excellence Awards for achievements in alcohol prevention as part of the AlcoholEdu for College program.
AlcoholEdu is a science-based, online alcohol prevention program designed specifically for college students as the cornerstone of a comprehensive campus prevention program. The purpose of the online program required for UTSA freshmen is to prevent or reduce alcohol-related problems among students while providing accurate data to assess the alcohol-related attitudes, experiences, behaviors and health education needs of students.
---
Today's headlines
Article tools
---
"Our applicant pool was phenomenal; it was truly an honor to get a view into the excellent work being done on campuses around the country," said Outside The Classroom's founder and CEO Brandon Busteed. "These institutions have created and implemented comprehensive prevention programs that will impact both the individual student and the broader campus culture in very positive ways."
Through the program, University of Alabama was recognized with highest honors and a $10,000 donation to the university for its implementation of innovative programs and educational resources. All 13 colleges and universities were honored at a reception at a joint meeting of the American College Personnel Association (ACPA) and the National Association of Student Personnel Administrators (NASPA).
The other institutions honored with the award were UTSA, Bentley College, St. Joseph's University, State University of New York - New Paltz, University of Connecticut, University of Central Florida and University of Iowa.
UTSA's AlcoholEdu program involves the collaboration of many campus partners including Student Housing, Judicial Affairs, Greek Life, Student Life, Student Activities, Police Department, Student Health Services, Freshman Seminar, Advising, Tomas Rivera Center and Athletics.
The goal of the program is to diminish the "college effect" on alcohol use. The "college effect" is the phenomena of students believing they should drink alcohol simply because they are experiencing new freedom living away from home for the first time. The effect often is significant increases in drinking, heavy episodic drinking and high-risk drinking behaviors with reductions in abstention and protective behaviors.
Statistics gathered through AlcoholEdu indicate these behavior changes at UTSA as a result of the program:
The percentage of students who reported they think about blood alcohol content (BAC) while drinking increased from 34 to 57 percent.
The percentage of drinkers who developed an awareness of the need to change the way they drink alcohol increased from 19 to 31 percent from Survey 1 to Survey 2.
The percentage of students who reported they know more than a "moderate amount" about the effects of alcohol increased from 40 percent before the course to 70 percent after they completed it.
In the third year of the UTSA program, there was a 47 percent decline in alcohol-related incidents as compared to the first-year of the program.
The UTSA AlcoholEdu program resulted in 85 percent of participants saying the course helped them feel more prepared to handle situations that might come up that involve alcohol and decisions about drinking.
Award recipients demonstrated their dedication to the health and safety of their students by implementing comprehensive alcohol prevention programs on their campuses. The recipients' efforts included a variety of strategies, including population-level prevention, an approach that engages an entire population of students, such as a first-year class, not just those who have violated alcohol policies; peer education programs; poster campaigns; and events that underscore the importance of safe behaviors. The programs were supported with communication to faculty, parents and community members, as well as evaluation to ensure the programs are having an impact on students and their behaviors.
Alcohol prevention on our nation's college campuses is critically important. In September 2004, the Centers for Disease Control and Prevention (CDC) announced an estimate that 4,554 underage deaths per year were a result of excessive alcohol use. Similarly, a March 2005 report from the National Institute of Alcoholism and Alcohol Abuse (NIAAA) reported that the problem of college drinking exceeds previous estimates. The report cites more than 1,700 alcohol-related deaths and 2.8 million cases of driving under the influence in 2001. Previous estimates also suggest 500,000 injuries, 70,000 sexual assaults, and 159,000 first-year student dropouts due to alcohol and other drugs every year.
A third-party panel of experts in the prevention field evaluated award applications. Their decisions were based on five criteria: implementation practices, communication, evaluation, programmatic linkages, and organizational linkages.
The Prevention Excellence Awards program is sponsored by Outside The Classroom Inc., the developer of the AlcoholEdu online prevention programs used on more than 500 college campuses around the country.
------------------------------
Outside The Classroom Inc.
The leader in online prevention, Outside The Classroom Inc. focuses on tackling high-risk drinking and the related epidemic-level health issues by delivering programs designed for population-level applications. The company's programs, including AlcoholEdu and SexualAssaultEdu, provide a personalized approach that helps students make safer, healthier decisions and reduce the risk associated with these critical behavioral health issues.
Outside The Classroom's development team includes prevention professionals, assessment and evaluation experts, experienced educators, and leading scientists. The organization collaborates with prominent organizations including the National Association of Student Personnel Administrators (NASPA) and Mothers Against Drunk Driving (MADD).