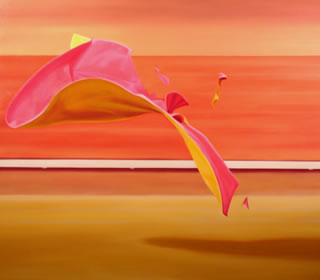 Paintings by Jerry Cabrera (bottom piece on loan from UTSA Art
Collection)
Museo Alameda presents exhibit by UTSA alumnus Jerry Cabrera
By Tim Brownlee
Assistant Director of Public Affairs
(June 21, 2007)--San Antonio's Museo Alameda, the first formal affiliate of the Smithsonian Institution, will present "CAPE," an exhibit of oil paintings by UTSA alumnus Jerry Cabrera, from June 27 to Sept. 2.
---
Today's headlines
Article tools
---
Meet the artist at an opening reception from 6 to 9 p.m., Wednesday, June 27 at the Proyectos Gallery on the museum's second floor. Admission to the reception is free and open to all.
Additionally, the artist will discuss his work in a Contemporary Art Month lecture from 2 to 4 p.m., Saturday, July 7 in the Proyectos Gallery.
A UTSA M.F.A. degree recipient, Cabrera examines in his exhibition the cultural issues of the bullfighting tradition. According to the artist, removing the subjects (the bull or matador) from the event focuses on the active beauty found in the movement of the cape. The exhibition includes a piece on loan from the UTSA Art Collection.
The exhibition is made possible by grants from the NALAC Fund for the Arts with funding from the Ford Foundation, the J.P. Morgan Chase Foundation and the Cultural Collaborative of San Antonio. The San Antonio Office of Cultural Affairs provides additional support.
For more information, contact the Museo Alameda, 318 W. Houston St., San Antonio, Texas, 78205, at (210) 299-4300.
------------------------------
Museo Alameda explores the Latino experience in America through multiple art forms to foster contemplation, deliberation and understanding of America's cultural fabric. Museum hours are 10 a.m.-6 p.m., Tuesday, Thursday, Friday and Saturday; 10 a.m.-8 p.m., Wednesday and noon-6 p.m., Sunday. The museum is closed Monday, New Year's Day, Easter, Battle of Flowers Day, Memorial Day, Independence Day, Thanksgiving and Christmas.