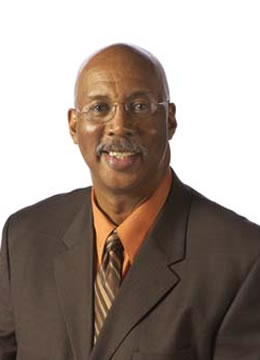 Nevil Shed
Nevil Shed to speak at alumni breakfast
By Marcia Mattingly
Office of Alumni Programs
(June 26, 2007)--The next Connections Breakfast, hosted by the UTSA Alumni Association, will feature a keynote speech by NCAA basketball star Nevil Shed. The event is 7:15 a.m., Tuesday, July 17 at the Marriott Northwest hotel, Loop 410 at Interstate 10.
One of the first African-American men in the United States to play in an NCAA basketball league game, Shed was a member of the Texas Western Miners (now UT El Paso) team that won the 1966 NCAA Men's Division I Basketball Tournament National Championship coached by
Don Haskins
.
---
Today's headlines
Article tools
---
He was known by his teammates as "The Shadow" because of his tenacious defense. "But fans remembered me for my role as the starting forward for the 1966 team that went 28-1," said Shed. "The season was topped with a 72-65 win over perennial NCAA powerhouse University of Kentucky Wildcats, coached by the legendary Adolph Rupp."
The Miners made history as the first team in NCAA history to start an all-African-American lineup in that championship game, and Shed was one of the starters in the lineup. The blockbuster Disney film, "Glory Road," chronicles the team's outstanding journey.
Shed was drafted by the Boston Celtics in 1968, but an injury sidelined his career. He later became an assistant to his college coach, Don Haskins, at Texas Western. In 1981, Shed was hired as assistant coach for the first UTSA basketball team and he retired from UTSA in 2006. In 2007, the Western Miners were enshrined as a team in the Naismith Basketball Hall of Fame.
Many honors later, Shed speaks to groups of all ages on the story of his faith in himself, his mentors and, of course, basketball.
Take advantage of this opportunity to reacquaint with alumni and meet other community leaders. You don't have to be a member of the UTSA Alumni Association to attend a Connections Breakfast, and you or your company's table sponsorship is greatly appreciated.
The Connections Breakfast is $20 for UTSA Alumni Association members and UTSA students, and $25 for non-members. Breakfast is served at 7:45 a.m. and the program begins promptly at 8 a.m.
For more information on sponsorships or to make a reservation, visit the UTSA Alumni Programs Web site or call (210) 458-4133.