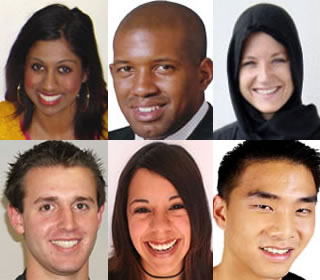 Diversity awareness class is open to UTSA faculty, staff
By Diane Piña
Diversity Trainer, Office of Institutional Diversity
(June 1, 2007)--A new, free class offered by the UTSA Office of Institutional Diversity will focus on respect and awareness of differences in the workplace -- and it is open to UTSA faculty and staff.
---
Today's headlines
Article tools
---
"Diversity Awareness: M.E.E.T. on Common Ground" will be offered twice this summer: June 12 at the Downtown Campus and July 24 at the 1604 Campus.
Register for the two-hour class online at the TXClass link at the Training and Development Web site (class code SD 308).
The experiential class will explore diversity and cultural awareness on the job utilizing the four-step "M.E.E.T. on Common Ground" model for promoting communication, understanding and respect.
The M.E.E.T. steps are:
Make time to discuss.
Explore differences.
Encourage respect.
Take personal responsibility.
The class, which includes a dynamic audiovisual presentation, will emphasize class discussion and time to practice the M.E.E.T. model. Practical examples and advice for resolving difficult situations will be featured. Check out an excerpt from the audiovisual presentation from the class.
For more information, call (210) 458-4153.