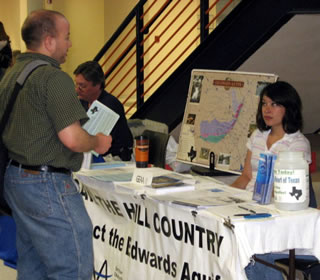 Earth Day event at University Center
UTSA students increase recycling involvement
By Mark Esté
Student Writer, College of Liberal and Fine Arts
(June 13, 2007)--Between nationwide recycling competitions and Earth Day involvement fairs, the work-study students who work with the UTSA Recycling Program were quite busy this year.
---
Today's headlines
Article tools
---
This spring, UTSA entered its first RecycleMania competition. RecycleMania is a national intercollegiate recycling contest to raise awareness of waste disposal and environmental issues on college campuses. The 10-week effort featured nearly 200 schools from 42 states.
In the end, California State University - San Marcos was named grand champion. UTSA finished in the top half of schools in the gorilla prize, which awards total pounds of recycling and first in the state of Texas for targeted materials (bottles and cans). The RecycleMania contest accumulated more than 41.3 million pounds of recyclable material, and UTSA alone collected 113,722 pounds.
Shortly after RecycleMania came to a close, the UTSA Recycling Program hosted Earth Day UTSA on Monday, April 23. The three-hour event in the University Center featured environmental groups and companies from throughout the community. Some of the groups represented included City Public Service, San Antonio Water System, the Greater Edwards Aquifer Alliance, Alamo Sierra Club and the San Antonio River Authority. Red McCombs Ford displayed a 2007 Ford Escape Hybrid.
The UTSA Office of Environmental Health, Safety and Risk Management staff is looking forward to summer to help the work-study students revise and improve the recycling program for next year.
Thanks go out to the entire UTSA community for increasing involvement in the program this year.
For more information, contact the Office of Environmental Health, Safety and Risk Management at (210) 458-5250.