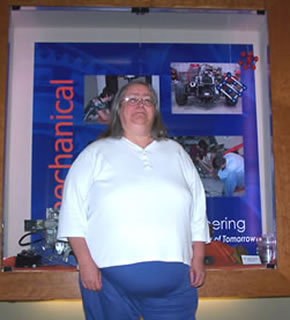 Peggy Talley
Commencement Close-Up: Peggy Talley earns second UTSA degree after nine-year journey
By Kris Rodriguez
Public Affairs Specialist
(June 5, 2007)--Peggy Talley has been an eyewitness to change and growth at UTSA. In 1987, she graduated magna cum laude with a UTSA bachelor's degree in physics and went on to a successful career, first at Southwest Research Institute and now at Gas Turbine Materials Associates.
---
Today's headlines
Article tools
---
The joy of learning motivated Talley to return to UTSA to earn a second bachelor's degree, this time in mechanical engineering. Because the circumstances had changed in her life, earning a second degree would be a more time consuming venture.
The mother of four and grandmother of eight had a much busier life than when she first was in college. She took one class per semester and after nine years, received her bachelor's degree in mechanical engineering at last month's commencement exercises. After persevering in her studies, Talley will use her mechanical engineering degree as an engineering analyst at Gas Turbine Materials Associates.
"I knew it would take a while, but I did not sit there and count the hours," said Talley. "I took some classes over that I had in physics, because I knew the emphasis and the way the class would be taught would be different, and it taught me something new."
During her 13 years attending classes at UTSA, Talley has seen the campus evolve. "I've been here longer then most of the professors on campus and half the buildings," she said.
During her first stint at UTSA, she would jog around open fields on the 1604 Campus that have since disappeared to make room for student housing and parking along Valero Way.
Besides seeing the university grow, Talley also experienced the growth in tuition as well. When she started in 1983 as a freshman physics major, the cost of a full-time course load was $150 per semester. Thirteen years later, she paid $1,600 for tuition and fees for six hours of classes.
The first in her family to earn a college degree, Talley offers this advice for students planning to attend UTSA: "Just do what you enjoy doing and always keep learning," said Talley. "Professors are there to try and teach you something, so try and get something out of it and enjoy what is being offered."
But with two bachelor's degrees in hand, her quest for knowledge will continue as she considers pursuing an advanced degree.