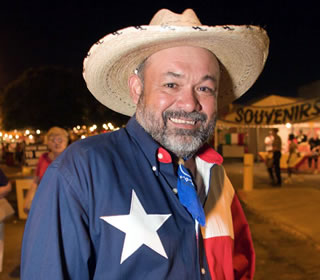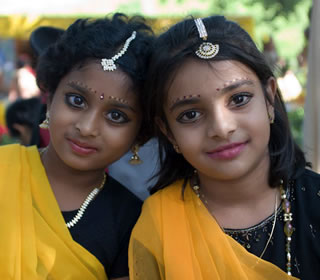 Texas Folklife Festival participants
Texas Folklife Festival is about heritage and goodwill
By James Benavides
UTSA Public Affairs Specialist
and
Aaron Parks
Marketing Coordinator, UTSA's Institute of Texan Cultures
(June 4, 2007)--For 36 years, the Texas Folklife Festival has brought together more than 40 Texas cultures in a celebration of diversity and friendship. This year's festival, June 8-10 at UTSA's Institute of Texan Cultures, celebrates the theme, "It's All About Friendship."
Before diversity and multiculturalism became popular buzzwords, they were part of the fabric of the institute. On the heels of HemisFair '68 and aligned with the museum's mission of interpreting the history of the cultures that settled Texas, O.T. Baker established the Texas Folklife Festival to celebrate the Lone Star State's multinational, multiethnic heritage through the contributions of more than 40 cultures that make Texas great.
---
Today's headlines
Article tools
---
Baker's inspiration for "the nation's biggest block party" was seeded at the Smithsonian Institution in Washington, D.C., in 1968, where he and a group of Texans represented the state at the American Folklife Festival. After his return, it took Baker four years to arrange community backing and financial support to make the first Texas Folklife Festival a reality. In 1972, Baker's efforts paid off. He did more than throw a party -- he started a tradition hosting one of the state's largest ethnic reunions.
Fast-forward 36 years to 2007, and the magic still hasn't gone away. The 2007 event will feature entertainment stages, more than 150 ethnic foods, artisans, craft vendors and reenactors demonstrating various daily tasks from the 19th century.
There have been changes over the years. In the early years, the festival was hosted in September, then August and now June. This year the event will pack four days of fun into three. "We changed our hours to reflect peak visitation times," said JoAnn Andera, event director. "This allows our volunteers to focus their efforts over three days and opens the door to cultural groups that may not have been able to commit to four days. There will still be 26 hours of celebration."
One thing that hasn't changed is the mission of the event.
"The Texas Folklife Festival and all of the events we produce at UTSA's Institute of Texan Cultures are designed to be extensions of what guests enjoy on the museum's exhibit floor," said John Davis, executive director of the museum. "Our events bring the stories of Texas' cultural contributors to life. The performances, food options, artisan demonstrations and everything else guests experience at our events are reflections of the traditions, customs and lifestyles of cultural groups that settled in Texas and continue to make it an amazing state. You'll walk away entertained, educated, inspired and most likely full."
The feeling of goodwill and the sense of welcome and belonging has become the trademark of the festival. Some people may come to the museum or San Antonio only once a year, but to Texas Folklife Festival veterans, they are old friends. In fact, that's what inspired the theme for the 2007 event.
"The event's theme is simple: It's all about friendship," said Andera. "Bring your friends and make some new ones."
Among the friends you are likely to make at this year's event might be Claudia Ball of Comstock, who prepares delicious prickly pear jelly. She directed the Texas Folklife Festival between 1975 and 1980 and hasn't missed TFF in 35 years. At 80 years old, Fritz Foster is possibly the best zydeco dance partner anyone could find. Constantine Sgagias and his team grill hundreds of pounds of chicken and lamb for gyros, while Bill Hightower and Trish Hightower cook up an old-fashioned chuck wagon dinner at the Dutch ovens. And the list goes on and on.
Anthropologist Shirley Mock has studied cultural groups in Texas for 15 years. "For the traditions and customs of a group to survive, they must be passed on to new generations. Events like the Texas Folklife Festival not only instill a sense of pride and ownership among descendants but also invite new participants to share in and embrace the culture. By inviting guests to join in the dancing, hear the music and stories, and smell and taste traditional foods, these cultural groups encourage new generations to honor their heritage and carry their traditions and customs forward."
Brianna Santillanes and Phil Santillanes have attended the Texas Folklife Festival twice since moving to San Antonio from Albuquerque, N.M. This year they will introduce the event to their two-year-old daughter, Kaleigh.
"We want our daughter to understand and embrace her heritage, but we also want to introduce her to the traditions and beliefs of others," said Phil. "It sounds odd since she's only two, but we want to prepare her to work in a global economy when she grows up. Teaching her to honor and enjoy other cultures will make her a better employee and a better person."
Brianna added, "The bottom line is we want to expose our daughter to different cultures early in her life, and this is a fun event. We worried about it being too hot, but there are plenty of shade trees, cool tents, misting stations and air-conditioned indoor activities, so we know we'll be comfortable. We're looking forward to a great event."
"The whole is so much greater than the sum of the parts," said Andera. "We are all enriched when we share our heritage and traditions, and we take pride in our own heritage while we come to appreciate the traditions and histories of others."
For tickets and other information, visit the Texas Folklife Festival Web site or call (210) 458-2390.
------------------------------
This piece is in the May issue of San Antonio Woman magazine.