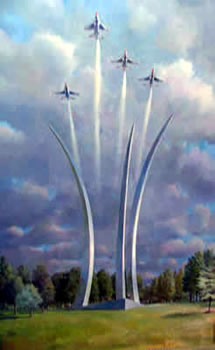 U.S. Air Force memorial
ITC hosts Air Force 60th anniversary exhibit
By James Benavides
Public Affairs Specialist
(June 29, 2007)--This year, the U.S. Air Force celebrates 60 years as an independent branch of the U.S. Armed Forces. As part of the anniversary celebration, UTSA's Institute of Texan Cultures, the Air Education and Training Command Office of History and the Air Force Art Program Office present "Heritage to Horizons," an exhibit of artworks commemorating the heritage of the Air Force.
---
Today's headlines
Article tools
---
Murals on display at the ITC through Aug. 12 depict a chronology of significant aircraft, people, places and events in Air Force history.
Additionally, there are four displays highlighting the Doolittle Raid on Tokyo, the Tuskegee Airmen, the Berlin Airlift and the Hurricane Katrina Humanitarian Operation.
Hours of UTSA's Institute of Texan Cultures, 801 S. Bowie St., are 10 a.m.-6 p.m., Tuesday-Saturday; noon-5 p.m., Sunday; closed Monday. Located in the lower gallery, "Heritage to Horizons" is free and open to the public, but does not include admission to the main exhibit floor.
For more information, visit the Institute of Texan Cultures Web site or call (210) 458-2330.