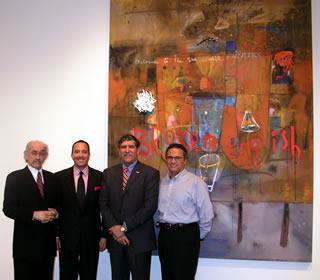 Top: Reginald Rowe (1996) and his painting in UTSA collection;
Center (from left): In 2005, Alberto Mijangos, art collector
Guillermo Nicolas, UTSA President Ricardo Romo and
UTSA art curator Arturo Almeida with Mijangos' "Broken English;"
Bottom: Linda Pace
Deaths of three artists impacts UTSA community
By Tim Brownlee
Assistant Director of Public Affairs
(July 9, 2007)--The deaths in recent weeks of three San Antonio artists touched many in San Antonio, South Texas and the UTSA community. Paintings by Alberto Mijangos and Reginald Rowe are in the UTSA Art Collection, and the work and artistic endeavors of Linda Pace influenced many at UTSA and around the world.
---
Today's headlines
Article tools
---
"We are fortunate to have excellent samples of the art of Alberto Mijangos and Reginald Rowe in the UTSA Art Collection," said UTSA President Ricardo Romo. "I have enjoyed their art for many years, and they both produced contemporary art that influenced many artists in the region. Additionally, Linda Pace was a remarkable person and had a big impact on our community, including UTSA faculty, staff and students. She will be sorely missed."
According to a San Antonio Current story, Alberto Mijangos and Reginald Rowe were among the most influential painters and teachers in the San Antonio art community. Both were abstract painters concerned with texture, color, form and expression. In addition to her role as a generous art patron, Linda Pace is known for her monochromatic mixed-media collages made of stuffed animals, cheap souvenirs, plastic jewels and other objects.
------------------------------
Alberto Mijangos
Alberto Mijangos died recently at age 81. His painting (shown at left), "Broken English," was donated to UTSA in 2005 by local art collector Guillermo Nicolas. It is one of two Mijangos paintings in the UTSA Art Collection.
"Mr. Mijangos lived to make art," said Arturo Almeida, curator of the UTSA Art Collection. "He believed that everyone had the ability to be creative, and that creative expression is an incredible gift that all of us are given. He selflessly shared his gift through his teaching and friendships, but must of all through his work."
Mijangos studied at the San Carlos Art Academy in Mexico City and the Art Institute of Chicago. He lived and worked as an artist in San Antonio for more than 40 years, and exhibited internationally and in one-person shows in Texas, Arizona, New York and Mexico.
"The painting, 'Broken English,' is precisely what my life has been about," said Mijangos in 2005. "It's the portrait of my struggles to catch up with the contemporary world. It's the same struggle that I have had in the last 50 years to absorb and become part of the 'Americana' way of thinking. It's always a little bit of my own background that shows in everything that I do. You will always find in my work a little piece of the tortilla as a tool as well as the fork."
------------------------------
Reginald Rowe
Renowned San Antonio artist Reginald Rowe died recently at age 86. Suffering from the early stages of Alzheimer's disease, he had been missing for a day after taking his dog for a walk near his Gillespie County cottage. He was found alive and alert by searchers, but was dehydrated and went into cardiac arrest at Brooke Army Medical Center.
According to an Associated Press story, the renowned San Antonio artist, acclaimed for his abstract expressionist paintings based on classical myths, was a mentor to generations of artists. He was honored in 1996 by the McNay Art Museum in San Antonio with a one-man retrospective.
Born in Brooklyn, Rowe graduated from Princeton University with a degree in Spanish literature, and also studied at the Art Students League in New York. He lived in Cuba for a short time and befriended Ernest Hemingway. Rowe moved to San Antonio in 1964 and became head of the faculty at the San Antonio Art Institute and chairman of the exhibition committee at the Witte Museum, which then featured visual art exhibits.
------------------------------
Linda Pace
According to Dan Goddard in a July 3 San Antonio Express-News story, Linda Pace was arguably the most generous art patron in the city's history and a respected artist in her own right. An heir to the Pace Foods company, Pace died July 2 at age 62 from complications of breast cancer. She had been treated for cancer in Houston.
"Linda Pace was a fantastic person, and we're going to miss her terribly," said Ken Little, UTSA professor of art and art history. "I was a Fellow at Artpace in 1996, and I got to know her well. Linda raised the bar 1,000 percent on patronage and support of the arts in San Antonio. She brought the world to San Antonio in the context of art, and she was a good person, always interested in showing San Antonio and Texas artists to the world."
"What Linda Pace gave to San Antonio was phenomenal," said Almeida. "We had begun looking at some of Linda's work for our collection, but we hadn't finalized a selection."
Artpace San Antonio opened its doors in January 1995 in a former Hudson car dealership near downtown, offering a new model for understanding the art of our time by focusing on the artistic process. It is known as the country's premier international artist residency program. National, international and local artists are selected three times each year by well-known curators to create projects at Artpace.