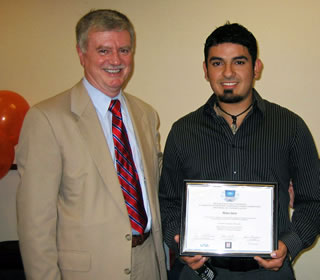 John McGowan, UTSA CIO and associate vice provost for
information technology, with laptop winner Moises Garza
UTSA student earns degree and Gateway laptop
By Tim Brownlee
Assistant Director of Public Affairs
(July 3, 2007)--Moises Garza, a May graduate in the criminal justice program, is the Spring 2007 winner of the UTSA Office of Information Technology Laptop Award -- the seventh in the Gateway computer award program.
Throughout his time at UTSA, Garza carried a full load of courses and was a work-study student in the UTSA Office of Publications. He finished his bachelor's degree program with a G.P.A. above 3.0.
---
Today's headlines
Article tools
---
In a recent award ceremony, Garza thanked his mother, Esther Garza; his girlfriend, Jalyssa Juarez and Frank Segura, his supervisor in the publications office, for their support as he pursued his degree.
Selected from UTSA Academic Development Program (ADP) graduates who apply for the award, Garza received a commemorative certificate, Gateway laptop computer and software. The Hispanic Association of Colleges and Universities and Gateway sponsor the award each spring and fall semester.
"It is difficult for many students today to graduate in four years, but this is one of the things about Moises that impressed the selection committee," said Cynthia Rodriguez, ADP associate director in the Tomas Rivera Center and a member of the laptop award selection committee. "Remember that many believe that a provisional student will never see graduation, much less do it in four years. We commend Moises for his achievements."
ADP students are initially accepted at UTSA as provisional students; ADP helps those students achieve success through academic skills training. A committee selects ADP students with G.P.A.s of 2.5 and above as award finalists. Finalists submit resumes detailing their academic and work experience.
The award was presented by John McGowan, UTSA CIO and associate vice provost for information technology; Steve Rodriguez, Gateway public sector sales account manager, and Cynthia Vela, interim director of conferences and events of the Hispanic Association of Colleges and Universities (HACU).
When UTSA students, faculty and staff purchase Gateway laptop computers as part of the UTSA Student Laptop Initiative, a portion of sales are returned to UTSA. Money in the fund is used to award a laptop computer each semester to an ADP student.