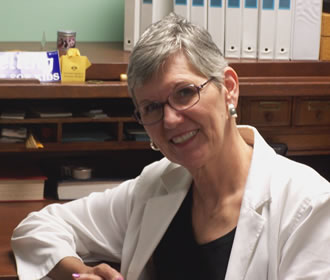 Mary Grace Ketner
ITC's Mary Grace Ketner featured in Texas Heritage
By James Benavides
Public Affairs Specialist
(July 25, 2007)--Education specialist Mary Grace Ketner at UTSA's Institute of Texan Cultures recently was featured in Texas Heritage, a publication of the Texas Historical Foundation. Editor of ITC's educational newsletter, "Crossroads of Culture," Ketner and her team prepare a periodic Texas Essential Knowledge and Skills (TEKS)-compliant curriculum as a resource for school districts and social studies teachers teaching the diverse cultures of Texas.
---
Today's headlines
Article tools
---
"Not every class has the opportunity to visit UTSA's Institute of Texan Cultures, but Mary Grace has helped school children across the state experience the diverse ethnic origins of Texas," said Bonny Johnston, ITC director of programs.
Ketner started "Crossroads of Culture" in 2002 through a grant. While it helped publicize the museum and its events, its primary purpose was as a gateway to a variety of materials including radio shows, oral histories, scanned primary source documents and photographs from ITC's collection of nearly four million historic pictures.
"The content for the newsletter springs directly from the exhibit floor," explains Johnston. "And it's a very user-friendly tool that teachers can use in whole or in part to assist in classroom presentations. Plus, it also helps showcase our amazing collection of historic photographs. Mary Grace has truly created an impressive and enjoyable educational tool."
With the expiration of grant funding, "Crossroads of Culture" has reverted to an online format popular with teachers and educational institutions. In addition to its stories and informational content, each issue includes bibliographies, worksheets and descriptions of TEKS requirements fulfilled.
Read "Crossroads to Culture" is at the Institute of Texan Cultures Web site on the Education page under "Teachers' Tools."
Read about Texas Heritage magazine at the Texas Historical Foundation Web site.