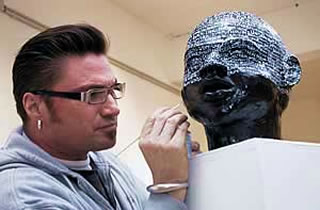 Top: Photo from "Weiland der Heiland" exhibit
Bottom: Artist Vaago Weiland
German artist Vaago Weiland exhibits at UTSA
By Tim Brownlee
Assistant Director of Public Affairs
(July 31, 2007)--UTSA will host the U.S. premiere of works by German contemporary artist Vaago Weiland in his photographic series, "Weiland der Heiland," from Aug. 2 to Aug. 31 at the UTSA Downtown Art Gallery in the Durango Building, Downtown Campus. This and other events are part of an international cultural exchange with San Antonio artists.
The photography exhibit featuring Weiland as famous and infamous personas from history is curated by Arturo Almeida, UTSA Art Collection curator. Free and open to the public, the exhibit is in collaboration with photographers Anna E. Link and Marc-Daniel Kress. Viewing hours are 8 a.m.-5 p.m., Monday-Friday.
---
Today's headlines
Article tools
---
An opening reception, free and open to all, will be hosted by UTSA President Ricardo Romo and Dr. Harriett Romo from 5:30 to 7:30 p.m., Thursday, Aug. 2 at the gallery.
An accomplished sculptor and multidisciplinary artist from Monchengladbach, Germany, Weiland has exhibited in Paris, Berlin and Frankfurt, among other cities. In his sculptures, paintings, photographs and installations, he presents life situations he has experienced and which raise questions and reflections.
The UTSA show is part of a collaboration and cultural exchange organized by San Antonio media artists and filmmakers Laura Varela and Guillermina Zabala. Varela and Zabala will go to Monchengladbach-Bonn, Germany, for a two-week residency to lecture, create multimedia installations and exhibit their works. San Antonio muralists and visual artists Alex Rubio and Jane Madrigal will follow in the spring to create community murals.
"This cultural exchange was driven by the artists themselves," said Almeida. "We are excited to bring Vaago to UTSA, because he helps further our goal of building regional and international relationships among artists and their communities. They were inspired by each others' work and invited each other to their respective cities to present their art."
Weiland's second show in San Antonio, "The All Star Series," premieres Aug. 11 at the Flight Gallery, 1906 S. Flores. In this series, Weiland combines painted snapshots, holiday photographs and produced scenes in the style of billboards, using the five-pointed star and socialist themes in each painting.
Weiland will be part of the Media Kunst: Contemporary German Music and Film Symposium at the Blue Star Contemporary Art Center at S. Alamo and Probandt streets at 7 p.m. Sept. 21. Recognized in Europe as an accomplished multidisciplinary artist, Weiland will present an introduction to his work with two video trailers from Papua, New Guinea, and Kabul, Afghanistan. Both videos deal with the relationship between traditions, religions and values of longstanding cultures and the influences of the American and Central European sense of mission.
Along with the showings, Weiland will give a public lecture and workshop Sept. 8-15 for high school students at SAY Sí, 1518 S. Alamo St. For more information, e-mail Guillermina Zabala, SAY Sí media arts director, or Laura Varela.