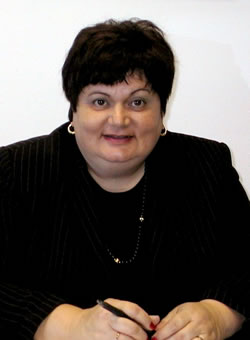 Marianne Woods
Marianne Woods named AVP for sponsored programs
(July 23, 2007)--Marianne R. Woods has accepted the position of UTSA assistant vice president for sponsored programs. Woods, who will oversee the Office of Sponsored Programs, comes to UTSA from the University of Alabama where she served as associate vice president for research since 2004. At Alabama, she founded the Office for Research Compliance, Office for Technology Transfer and the Bama Technology Incubator.
---
Today's headlines
Article tools
---
"We are exceedingly pleased to recruit Marianne Woods to UTSA," said Robert Gracy, UTSA vice president for research. "She comes to San Antonio at a critical time with great research growth at UTSA and other research partners in the San Antonio community. Her experience will be invaluable to us as we proceed on our course to make UTSA a premier research university."
Woods received a B.S. degree from the University of Oregon, a master's of science degree from California State University - Fullerton, and a Ph.D. in policy studies and evaluation from Claremont Graduate University. Additionally, she holds a Women Entrepreneur Certificate and J.D. degree.
At the University of Alabama, Woods was responsible overseeing growth of research and developing and implementing research policies and procedures in areas including pre-award, post-award, award accounting, indirect costs (or overhead), research compliance and intellectual property.
Previously, Woods served at California State University - Fullerton, California State University - Long Beach, University of Texas at Dallas and University of Texas at Arlington. She is on the board of directors of the Council on Governmental Relations and formerly served on the board of of the Alabama State EPSCoR Steering Committee, the Biotechnology Association of Alabama, the National Council of Research Administrators and the Texas Society for Biomedical Research.
Woods is past president of the Texas Technology Transfer Association (T3A), founding member of the University of Texas System Technology Transfer Management Council and a founding member of the Texas Research Administration Management Council (TRAM). She has received many honors including regional and national distinguished service awards from the National Council of University Research Administrators and the National Deal of Distinction Award from the Licensing Executive Society.