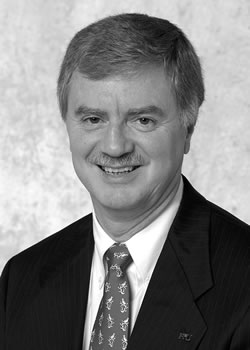 John McGowan
UTSA provost's office announces staff changes
By Lydia Fletcher
Special Projects Writer, UTSA '07
(Aug. 9, 2007)--John McGowan recently was promoted from associate vice provost to vice provost for information technology.
Since joining UTSA last year, McGowan has been responsible for reorganizing Office of Information Technology departments and creating a more customer-centered organization committed to providing a high level of customer service to faculty, staff and students. McGowan is overseeing the development of new IT initiatives to help move UTSA toward premier research status.
---
Today's headlines
Article tools
---
"When I arrived at UTSA and OIT last year, I found that we were not working as a cohesive organization," McGowan said. "Each office within OIT was generally responsible for one, and only one, technical area. We needed to move away from the silo structure in order to communicate more efficiently, allowing us to be more productive and customer-focused. We encourage everyone to continue providing feedback to us so we can better serve the UTSA community's needs."
In the Office of the Provost and Vice President for Academic Affairs, Terry Wilson was appointed July 25 as assistant provost for academic budgets, planning and compliance. Wilson left UTSA in February to work at the University of Missouri - Kansas City. In May, she received her M.B.A. from UTSA.
"The time I spent as a student at UTSA provided me with a deeper appreciation for the learning that takes place here," said Wilson. "I am proud to be an alum, to have a daughter as an alum and to be working in what I consider to be a dynamic, collaborative and forward-looking environment that also conveys a sense of community."
Debbie Jamison replaces Jan Kruse, who retired in January. The recent recipient of a UTSA M.B.A., Jamison will serve as executive assistant in the Office of the Provost and Vice President for Academic Affairs.