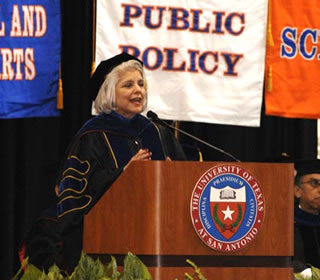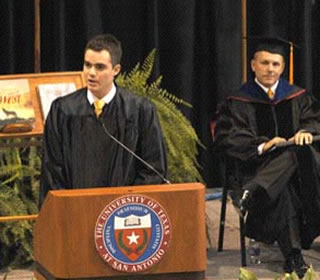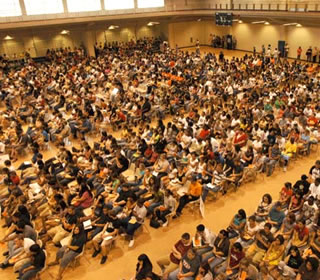 Sen. Judith Zaffirini (top photo) and Student Government Association
President Tommy Thompson (middle photo) address convocation
attendees. Bottom photo: A view of the crowd in the Rec Center gym.
Sen. Judith Zaffirini speaks at UTSA Fall Convocation
By Lesli Hicks
Special Projects Writer, UTSA '07
(Aug. 23, 2007)--In opening remarks Aug. 16 at the fifth annual UTSA Fall Convocation, UTSA President Ricardo Romo told the standing-room audience, "We welcome you from the bottom of our hearts...to grow, soar and overcome."
---
Today's headlines
Article tools
---
He then introduced the keynote speaker, Texas Sen. Judith Zaffirini (D-Laredo), who advised students that "deep breaths help during the first semester of college" and that they should set goals but regularly re-assess them when faced with new circumstances.
The event was part of Roadrunner Days, a series of events and activities that kicks off the new academic year. The week of events offers students opportunities to share UTSA traditions and become familiar with programs and services.
Addressing a capacity crowd at UTSA's newly expanded Recreation Center, the District 21 Texas legislator provided tips for the Class of 2011 on how to reap "all that UTSA has to offer." Organized by college and lining the Rec Center walls, students listened intently as Zaffirini urged them to "think of others for whom you can make a difference."
"Besides taking oxygen like an expectant mother experiencing contractions, prayer and preparation are consistent bywords for student success," Zaffirini said in remarks peppered with humorous anecdotes and first-hand experience.
Zaffirini said she became a mother at age 18 and went on to earn her bachelor's, master's and doctoral degrees. "Nothing is ever achieved without enthusiasm," she said. "But, along the way, serving the local, state, national and world community is important, too."
According to the senator, students should plan but be open to regular re-assessment of their goals and willing to modify plans when necessary. She recommended that students should buy their books, read them, attend class and sit in the middle of the front row, making eye contact with the instructor. "It's okay to be a freshman, but on the first day of school, don't look like one," she quipped.
Additionally, she asserted that bilingualism in Spanish and English is crucial to navigating the 21st century, but the Class of 2011 should consider learning multiple other languages while at UTSA. "Anyone who is only bilingual will be considered culturally deficient," she said.