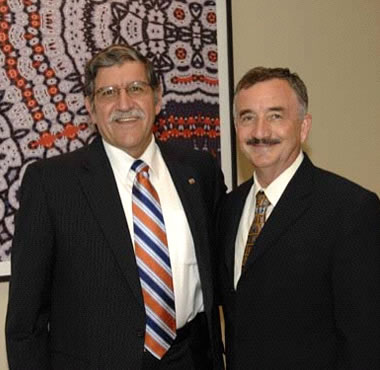 Rep. Ciro Rodriguez talks with students during a recent UTSA visit.
(Photo by Mark McClendon)
Researchers lead push for defense facility
By Kris Rodriguez
Public Affairs Specialist
(Aug. 20, 2007)--The University of Texas at San Antonio this month launched a new research magazine, UTSA Discover. A collaboration between the Office of the Vice President for Research and the Office of University Advancement and produced by the Office of University Publications, the magazine will be an annual publication highlighting cutting-edge research and creative activity in the university's colleges and research centers.
---
Today's headlines
Article tools
---
"We are excited to launch the magazine at this most important time in the growth of research at UTSA," said Robert Gracy, vice president for research. "UTSA Discover will chronicle UTSA's journey to becoming a premier public research institution. It profiles specific projects that exemplify our multidisciplinary, collaborative approaches to complex problems facing society. It also highlights our world-class faculty, students, staff and collaborators who make up the teams that solve these problems."
Featured in the inaugural issue of the magazine are research projects currently under way at the South Texas Center for Emerging Infectious Diseases, the Child and Adolescent Policy Research Institute, the Institute for Demographic and Socioeconomic Research, and in the College of Engineering. The new issue of the magazine also profiles three of the university's Ph.D. graduates and their teaching and research activities.
Each issue of the magazine will include in-depth articles on projects in various areas of the university and also will regularly include briefs on research projects and reviews of recent faculty publications.
"This is an exciting additional first for UTSA -- our first research publication, which helps us better tell our story of building a premier research university," said David Gabler, assistant vice president for communications.
"From the point of view of telling the UTSA story, a quality research magazine has been on our 'must-have' list for quite some time," said Janice Odom, interim vice president for university advancement. "I am thrilled that the dream has finally been realized, thanks to Dr. Bob Gracy's leadership and the talented staff of the UTSA publications office."
Download the inaugural issue (pdf format) of UTSA Discover.
----------------------------------------
For more information, contact Rebecca Luther at (210) 458-3138.