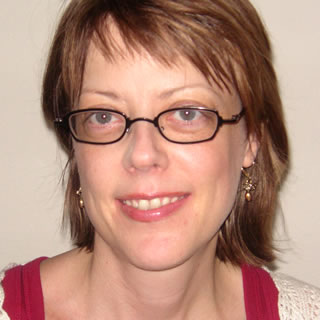 Julie Johnson
UTSA First-Year Faculty: Assistant Professor Julie Johnson
By Lydia Fletcher
Special Projects Writer, UTSA '07
(Aug. 22, 2007)--Julie Johnson, UTSA assistant professor of art and art history, received her Ph.D. in art history and film from the University of Chicago in 1998. She joined the UTSA faculty in spring 2007.
Johnson has developed courses in contemporary art, gender issues in art, Central European art, art nouveau and the art museum in addition to surveys of 19th and 20th century art.
----------------------------------------
---
Today's headlines
Article tools
---
LF: What brought you to UTSA and what attracted you to San Antonio?
JJ: I came to UTSA because of its outstanding art and art history department. San Antonio is a very vibrant community for contemporary art because of the alternative exhibition venues that exist here -- ArtPace, BlueStar and, of course, the museums. There's a lot of excitement and energy connected to contemporary art here, and the UTSA art faculty and students have been an integral part of it.
LF: What research are you conducting or hoping to conduct at UTSA?
JJ: I have two ongoing research areas -- one is connected to women's art exhibitions, display history and memory -- why do we keep on rediscovering the same things over and over again? I'm finishing up an article related to that right now. Another, for which I've been awarded a residential grant in Vienna this fall, began with a study of the architectural history of theaters that were built for insane asylums. I was awarded the research grant to work on a book on turn-of-the-century Vienna related to this research.
LF: What courses are you teaching?
JJ: I'm teaching contemporary art to undergraduate students, special topics seminars to graduate seminars with themes like contemporary issues, the art museum, gender issues and Central European art. I'll also be teaching 19th century art to undergraduates next spring. These are all art history offerings.
LF: What is your impression of the teaching atmosphere at UTSA?
JJ: I love it. The undergraduate students are very respectful, and many who take my contemporary art class are very serious studio art students. The graduate students -- I have students who are M.F.A. candidates in studio art and students who are working on M.A.s in art history -- are very impressive. We also have our own very helpful visual resources curator in the art department, which is essential for teaching art history.
LF: What is your favorite book, movie or hobby?
JJ: I just read "On Beauty" by Zadie Smith and couldn't put it down -- not just because it's about an art historian, but because I like the author's humor and the warmth with which she draws her characters. My favorite movie is "Adaptation," but a more recent film that I would give rave reviews to is "Paris Je t'aime." And, I really enjoy practicing yoga in San Antonio -- I've found very good teachers already.