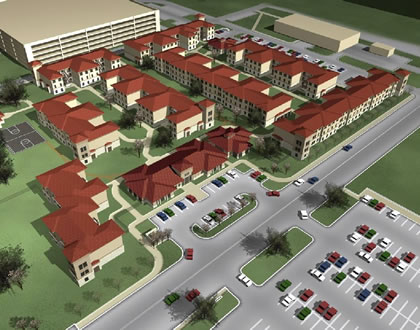 Artist's rendering of Laurel Village
New Laurel Village offers comfort, security
By Shelley Kilpatrick
Student Writer, College of Liberal and Fine Arts
(Aug. 29, 2007)--In the third story of a series on UTSA construction projects, Laurel Village is the latest addition to on-campus student housing. Developing on-campus housing is part of the UTSA mission to increase student success and achieve premier university status. It has been shown that student success is aided by living on campus with easier access to services and other support.
---
Today's headlines
Article tools
---
Laurel Village is the second UTSA-owned and operated student housing facility. In November 2006, construction began on the $39,182,000 project. This month, the first phase of the project opened with living quarters for 206 residents. In Summer 2008, Phase II will be complete with an additional 470 beds and a total project covering 185,000 square feet.
"Our demand for student housing has been so high that both Chaparral Village and Laurel Village were filled up by April," said John White, UTSA executive director of housing and residential life. "Laurel Village gives more space for students who want two-bedroom housing, and so far everyone that has seen it loves it."
Before the residence opening, I saw one of the four-bedroom suites. The living rooms are fully furnished and include a couch, chairs, dining room table and TV stand. Also, new students receive a phone book and a welcome package.
The bedrooms come furnished with an adjustable bed and desk, and each bedroom has a ceiling fan and cable TV outlet. The kitchen includes a full-sized refrigerator and a microwave, and the bathrooms include a full-sized tub. All utilities are included in the rent, and students can subscribe to Time Warner local and long-distance telephone, cable and high-speed Internet services.
The units and the bedrooms are accessed by UTSACard, and there are built-in latches on the bedroom doors to secure personal belongings. The UTSA Police Department coordinates security, which will include fences, cameras and emergency telephones.
Additionally, the facility features a "city center" with a computer lab, conference room, study rooms, community kitchens and basketball court. The neighborhood centers and recreation areas will include a laundry room, big-screen TVs, pool tables and foosball tables.
The monthly rent that pays for construction of the new housing is divided into 10 payments. To ease the burden on students, one payment is split in half with the first paid in August and the second paid in May. Also, the housing office will work with students and the Office of Financial Aid to help with payments. Finally, all students must sign up for a meal plan paid in three installments.