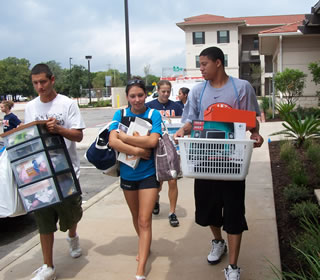 Top: UTSA basketball player Derrick Gibson (right) helps fellow
students move in. Middle: UTSA basketball player Travis Gabbidon
(right) helps student Lucy Menjivan move in. Menjivan's grandmother
is at left. Bottom: New student Lauren Wilson (orange shirt) and
family members put her apartment in order.
(Photos by Kris Rodriguez)
UTSA students move into new campus housing
By Kris Rodriguez
Public Affairs Specialist
(Aug. 16, 2007)--It was a busy weekend as students moved into their new campus residences and UTSA kicked off the school year with UTSA Roadrunner Days, a week of events to acquaint students with the university community.
More than 3,200 students moved into University Oaks Apartments, Chisholm Hall, Chaparral Village and the $40 million Laurel Village housing facility, all at the 1604 Campus.
---
Today's headlines
Article tools
---
With Phase I of construction nearly complete, Laurel Village staff members welcomed 206 students to their new homes. Housing 680 students, the facility is across the street from the Chaparral Village residences, which opened in 2004. Phase II of Laurel Village will open in summer 2008.
One of more than 1,000 Houston students enrolled at UTSA, freshman Lucy Menjivan now is a resident at Laurel Village. "I came to UTSA to get my Ph.D. to become a psychiatrist," said Menjivan. "I like listening to people and trying to help them with their problems."
But the increased interest in on-campus living also is coming from inside Bexar County. Many students such as Reagan High School graduate Lauren Wilson are moving in. "I'm really excited because it's a new place and I will be on my own," said Wilson, a freshman on scholarship with the UTSA track team. "I can't stop smiling."