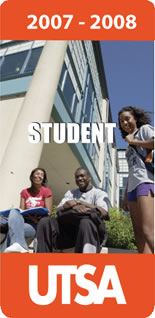 New parking permit
UTSA parking permits mailed day after ordering
By Tim Brownlee
Assistant Director of Public Affairs
(Aug. 2, 2007)--A new ordering system instituted by UTSA Parking and Transportation Services (PTS) offers a more efficient and convenient way to order a parking permit. Permits ordered online will be mailed the next business day to the address provided on the online permit application.
To correct an announcement sent to UTSA faculty and staff: Permits still can be ordered online after July 31 with mailing the next business day.
---
Today's headlines
Article tools
---
PTS has made additional improvements for the new academic year to include more parking options for faculty, staff and students. The new options include a "park-up" feature for some faculty-staff and student permits. With these permits, permit holders can "park-up" in a higher-classification space during evening and weekend hours. There are a number of permit options.
The new permit types will help those who work or have classes at 5 p.m. locate closer-in parking. For example, students not living in campus housing who have the new CN permit ($60 for 12 months) can park at no extra charge in unmarked or faculty-staff B permit spaces from 4:30 p.m. to 6 a.m. weekdays and all day on weekends. Also at these times, faculty-staff B permit holders can park in faculty-staff A spaces at no extra charge.
"Our goal is to provide the best customer service possible, as we work with the parking space available," said Jane Wilcox, UTSA associate director of parking and transportation services. "We have established the new permits to offer more flexibility and to maximize parking for our constituents."
The carpool permit is another new program with which groups of faculty-staff members or students purchase scratch-off permits for their appropriate permit area. The goal is to reduce the number of single-occupant vehicles coming to campus, resulting in increased parking space availability.
Additionally, UTSA parking permits were redesigned with photos of the campuses and a larger neck to accommodate vehicles with electronic devices on the rear-view mirror.
See the Parking and Transportation Services Web site for details on the range of permits available.
For more information, call (210) 458-PARK (7275).
------------------------------
Additional UTSA parking changes
Bicycles on campus must have a permit, must be in operating condition and must be parked at a bike rack.
Graduate students with an appointment of 19 or more hours as a graduate research assistant or graduate teaching assistant can purchase a faculty-staff B permit.
New scratch-off permits help students, faculty and staff members who only occasionally need to bring a vehicle to campus. In conjunction with the carpool program, this will reduce the number of vehicles on campus. Scratch-off permits are available for $2 per permit in lots of five.
New student commuter permits offer parking at a lower cost for parking on campus from 4:30 p.m. to 6 a.m. weekdays and all day on weekends.
Faculty emeriti receive a faculty-staff A permit at no charge; retired faculty and staff with no appointment receive a faculty-staff B permit at no charge.
Because of the increasing number of collaborative research projects with the UT Health Science Center at San Antonio, UTHSCSA permits with a special decal can park at no extra charge in certain zones at the UTSA campuses.
Read details at the Parking and Transportation Services Web site.