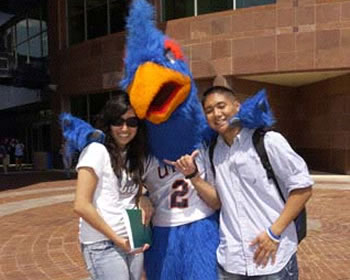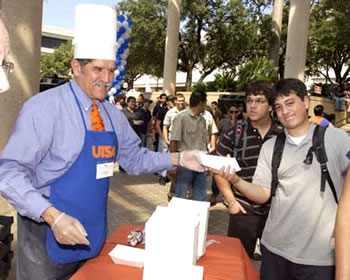 Top: President's Picnic on the Plaza 2006, Downtown Campus
Middle: President's Barbecue 2005, 1604 Campus
Bottom: President's Picnic at the Sombrilla 2006
President Romo to host three UTSA picnics
By Tim Brownlee
Assistant Director of Public Affairs
(Aug. 24, 2007)--As part of Roadrunner Days, UTSA President Ricardo Romo will host three free picnics next week for UTSA students, faculty and staff members.
---
Today's headlines
Article tools
---
Roadrunner Days events and activities kick off the new academic year and give students opportunities to connect with each other and the UTSA community.
The President's Picnic in the Plaza with free food and music is 11 a.m.-1 p.m., Tuesday, Aug. 28 on Bill Miller Plaza at the Downtown Campus.
The President's Barbecue will be 5-7 p.m., Wednesday, Aug. 29 with games and live music by Highspeed Hayride. Everyone is invited to enjoy a free dinner at the Convocation Center west mall on the 1604 Campus.
A third event, the President's Picnic at the Sombrilla is 11 a.m.-1 p.m., Thursday, Aug. 30 at Sombrilla Plaza on the 1604 Campus. The UTSA community is invited for free food and music.