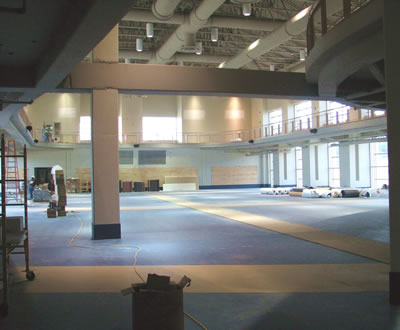 New Rec Center weight room and elevated track
UTSA Rec Center triples space, adds services
By Shelley Kilpatrick
Student Writer, College of Liberal and Fine Arts
(Aug. 23, 2007)--In part two of a series on construction at UTSA, a nearly $46 million expansion is nearing completion at the Recreation and Wellness Center on the 1604 Campus. The new facility will include a two-court gym, indoor track, weight room, lazy river, pool and counseling center.
The Rec Center project began in 2001 when students voted to increase student fees to expand the center. Since then, there have been many changes including a climbing wall that opened in 2003. More recently, students voted to double the Rec Center fee for triple the amount of space. The first phase of the expansion opened Aug. 19 with final phases set to open in September and November. The $45,700,000 project includes renovation of 14,505 square feet and addition of 124,710 square feet.
---
Today's headlines
Article tools
---
"We can't wait... we are all very excited to move into the new space," said Laura Munroe, recreation center associate director of operations. "One of the most important things for students to understand is they don't have to pay anything extra to use the Rec Center because the student fee covers everything from the climbing wall to the lazy river. And, UTSA faculty and staff members are invited to obtain a membership through payroll deduction." (Download the payroll deduction form for Campus Rec faculty-staff membership.)
In a tour of the facility, I was very impressed with the innovative design and additions. One of the most exciting areas is the lazy river surrounding the swimming pools and hot tubs. Outside, there will also be two sand volleyball courts and a basketball court. From there, students will have easy access to the new Chartwells juice bar and locker rooms complete with granite countertops.
After hanging out at the pools, students can go to the new lounge area with more space and big-screen TVs, along with four new racquetball courts, an inline hockey wall, an indoor soccer court and the MAC (multipurpose activity court) gym, a huge space that is a new concept for working out and playing non-traditional sports such as indoor hockey and team handball.
Upstairs, the former weight room will become a conference room, and from the new track, students can look down into the new cardio and weight rooms, where a new area is devoted to abs and stretching exercising. The cardio and weight rooms are in 10,000 square feet of new space, which is twice as big as before. The cardio room features 30 machines with a TV on each one. Finally, two studio rooms look onto a fantastic view of the lazy river and pool.
With an anticipated November completion for the project, the UTSA community will have a state-of-the-art Rec Center that is sure to rival any school in Texas.
For more information, visit the UTSA Recreation Center Web site.