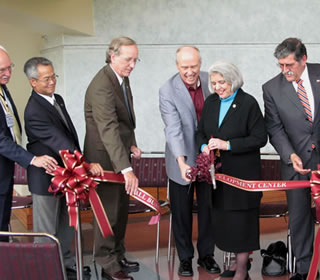 From left: Richard Perez, TAMIU-SBDC director; Jack So, dean of
TAMIU College of Business Administration; Dan Jones, TAMIU
provost and vice president for academic affairs; Ray Keck, TAMIU
president; Senator Judith Zaffirini, and UTSA President
Ricardo Romo
TAMIU, UTSA partner to better serve Laredo
(Aug. 8, 2007)--The Texas A&M International University (TAMIU) Small Business Development Center (SBDC) was dedicated at a Thursday, Aug. 2 ceremony at the TAMIU Western Hemispheric Trade Center.
On hand to usher in the new SBDC were Texas Senator Judith Zaffirini, TAMIU President Ray Keck; UTSA President Ricardo Romo; Richard Perez, TAMIU-SBDC director and Jacky Yuk-Chow So, dean of the TAMIU College of Business Administration.
---
Today's headlines
Article tools
---
TAMIU-SBDC is part of the South-West Texas Border Small Business Development Center Network of UTSA. The dedication ceremony coincided with the network's quarterly meeting Aug. 2-3 in Laredo.
While new to TAMIU, SBDC has a near 20-year history of service in Webb, Zapata and Jim Hogg counties. Thursday's ceremony acknowledged the significant investment of resources made for almost two decades by the Laredo Development Foundation, the previous SBDC program host that is continuing its support.
Lead partner and UTSA President Ricardo Romo spoke of the importance of collaboration. "UTSA is very pleased to collaborate with Texas A&M International University to help build the Laredo area economy -- one small business at a time," Romo said.
"Small business is the border's business and our TAMIU-SBDC is a committed and integral champion in quickening its pace and success," said TAMIU President Ray Keck. "We're especially excited about our presence at Casa Ortiz, a focal point of the Villa Antigua downtown restoration project, and our own efforts to lead economic revitalization of the area."
According to Keck, the TAMIU-SBDC operation joins forces with current offices at the Laredo Development Foundation, the Texas Workforce Center and downtown at TAMIU's Casa Ortiz.
TAMIU-SBDC features a full-time staff of eight business and training professionals to help entrepreneurs with business planning, financial proposals, computerized bookkeeping, marketing and other important management topics. SBDC business consulting services are free of charge and confidential.
From helping existing business owners grow and dealing with operational challenges to assisting aspiring entrepreneurs to turn ideas into businesses, SBDC professional business counseling and training services provide current, practical information. A partnership program with the U.S. Small Business Administration, SBDC training classes teach solid management solutions in a classroom environment and are available anytime online.
For more information, contact Richard Perez at (956) 326-2840.