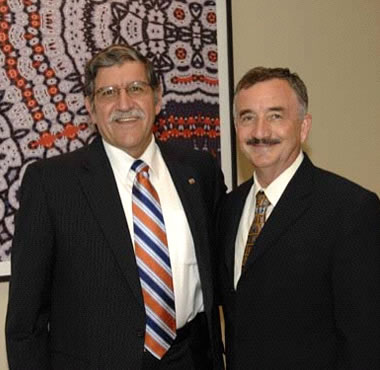 Rep. Ciro Rodriguez talks with students during a recent UTSA visit.
(Photo by Mark McClendon)
Researchers lead push for defense facility
By Kris Rodriguez
Public Affairs Specialist
(Sept. 10, 2007)--UTSA South Texas Center for Emerging Infectious Diseases (STCEID) researchers will be among a growing list of proponents speaking in favor of bringing a new $500 million national bio and agro-defense facility (NBAF) to San Antonio. The Department of Homeland Security will conduct a public meeting to discuss the environmental impact of the proposed facility from 6 to 10 p.m., Tuesday, Sept. 11 at the Marriott Plaza Downtown hotel, 555 S. Alamo St.
---
Today's headlines
Article tools
---
San Antonio is among five finalists seeking to land the coveted economic-generating research facility, and UTSA infectious disease researchers are championing a local effort to build the facility in San Antonio. The proposed site would house the 520,000-square-foot facility at the Texas Research Park on Potranco Road in southwest San Antonio.
Last month, U.S. Congressman Ciro Rodriguez met with UTSA President Ricardo Romo, other UTSA administrators, STCEID researchers and representatives from the UT Health Science Center, BioMed San Antonio and Texas Bio-Agri Defense Research Consortium.
"We feel there is a synergy between the biodefense work our infectious disease center researchers are already doing and the research that will be taking place in the proposed facility," said Robert Gracy, UTSA vice president for research.
NBAF would employ up to 350 and include researchers studying biological threats involving human, zoonotic and foreign-animal diseases. NBAF would replace the aging Plum Island, N.Y., Animal Disease Center, which was built in 1951 but has insufficient laboratory space and is costly to maintain.
If San Antonio is selected for the NBAF, it would allow for collaboration with STCEID researchers along with providing internship and employment opportunities for UTSA undergraduate and graduate students.
Comprised of 19 research teams led by College of Sciences faculty, STCEID is one of the leading emerging infectious disease research centers in the country, generating more than $5.3 million in research funding from the National Institutes of Health and private organizations since opening in 2005. STCEID research focuses on critical areas of human health including anthrax, tularemia, cholera, Lyme disease, desert valley fever and other bacterial and fungal diseases.
STCEID"s advanced research laboratories on the UTSA 1604 Campus are in the Biosciences Building, Margaret Batts Tobin Laboratory Building and the Biotechnology, Sciences and Engineering Building. Included in the facilities are two high-level containment biosafety level-three (BSL-3) laboratories for infectious agent research.