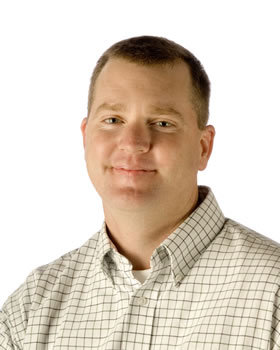 Michael Moyer
UTSA First-Year Faculty: Assistant Professor Michael Moyer
By Lydia Fletcher
Special Projects Writer, B.A., '07
(Sept. 25, 2007)--Michael Moyer, assistant professor of counseling in the College of Education and Human Development, came to UTSA one year ago from Texas A&M University, Corpus Christi.
----------------------------------------
---
Today's headlines
Article tools
---
LF: How long have you been at UTSA, and where did you come from?
MM: I've been here since August last year. I just finished my first full year. And my first summer, I taught during the summer as well. I came from Corpus Christi. I graduated with my doctorate in December 2005 from Texas A&M Corpus Christi.
LF: What kind of research do you do?
MM: My main area of interest is school counseling, and on top of that I work with self-mutilation, self-injury and adolescents, and that is kind of my main focus. My other areas are legal and ethical issues, ethics, school counseling and self-injury, but mainly working with adolescents and juveniles.
LF: What kinds of courses are you teaching or developing here at UTSA?
MM: I have been lucky enough to teach the introduction to school counseling. I just finished up the legal and ethical issues in counseling this summer, and I'm really excited to teach practicum, COU 5683, this fall, along with the school counseling.
I've been lucky enough the first two semesters to get to choose what I wanted to teach, which was Introduction to School Counseling -- which was incredible. I got to try to develop the course, make it more exciting, more beneficial to the students. And I really wanted to teach ethics and I got to do that this summer. And then I get students as they're leaving now with the practicum in the fall.
LF: Do you want to try to develop any courses about your main area of research in the future?
MM: I'd like to see more courses devoted strictly to school counseling. If that's in the future, I'd love to see that. But, in the counseling department, we're going through an accreditation process right now to try and get our counseling programs accredited. We have the introduction to school counseling and all the other courses kind of infuse the curriculum together. I would like to see some more.
LF: How are you enjoying teaching at UTSA?
MM: I love it. It's the greatest thing I've ever done. How do I explain this? You get to work with everyday topics and discussions that you're interested in. I get to read, I get to research things every day that fascinate me, and then I get to share those with other people. It's the most incredible thing I've ever done.
LF: How do you like the students here?
MM: Being a first-time faculty member, at first it was a little intimidating. What do I have to share with 20 or 30 students? But we all learn, and my job is to make information available so they can learn.
LF: What are your hobbies outside of UTSA?
MM: I don't know if it's a hobby, but I have a nine-month-old baby girl at home, so I definitely enjoy spending time with her, being a first-time father. Other than that I love running. I play tennis a lot -- well, I used to play tennis a lot, and I'm trying to get back into it. I absolutely love golf.
LF: How long have you played golf?
MM: Only about eight years. I played tennis for 20 years, and then picked up golf as a way to get away from tennis -- and now I can't get away from golf. I absolutely love it.