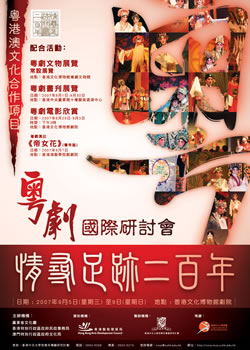 Wing Chung Ng and poster for Cantonese opera
conference in Hong Kong
UTSA professor keynotes Hong Kong conference
By Tim Brownlee
Assistant Director of Public Affairs
(Sept. 20, 2007)--Wing Chung Ng, UTSA associate professor of history, recently returned from a Hong Kong conference, where he presented the keynote speech, "Cantonese Opera as Cultural History."
---
Today's headlines
Article tools
---
The Sept. 5-9 conference, "Cantonese Opera: Historical Development Over the Last Two Hundred Years," was sponsored by organizations from Hong Kong, Guangzhou (Canton) and Macao and hosted by the Chinese University of Hong Kong Department of Music.
Scholars from Hong Kong, Mainland China, Japan, Singapore, Australia and the United States represented disciplines including history, music, literature, anthropology, religion, drama, communications and folklore, among others.
"My keynote combined a historiographic examination of the multidisciplinary scholarship of the past 50 years on this theatrical genre," said Ng. "It also included an experimental discussion of critical issues through the lens of local, national and transnational history."
Additionally, conferees had the opportunity to discuss Cantonese opera with some of the best actors and musicians of the art. The organizers also arranged an exhibition of scholarly works and historical artifacts as well as a public opera performance during the conference.