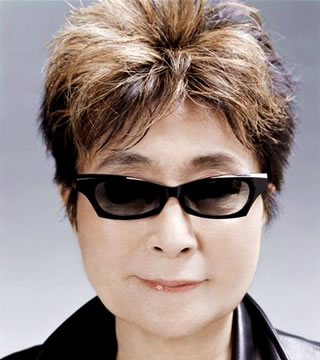 Top: "Imagine Peace" billboard Center: Yoko Ono, 2007 photo
Bottom: Lennon and Ono, 1960s bed-in
Yoko Ono exhibit comes to UTSA Sept. 26-Oct. 28
By Lesli Hicks
Special Projects Writer, M.A., '07
(Sept. 24, 2007)--The UTSA Department of Art and Art History will host the exhibit, "Yoko Ono Imagine Peace: Featuring John & Yoko's Year of Peace," from Wednesday, Sept. 26 to Sunday, Oct. 28 at the UTSA Gallery on the 1604 Campus.
Admission is free and open to the public. An opening reception is 5-9 p.m., Wednesday, Sept. 26.
---
Today's headlines
Article tools
---
The exhibition will include a suite of works representing the internationally acclaimed artist's influential conceptual projects from the early 1960s to the present, as well as materials documenting famous "art-actions" produced with her late husband, musician John Lennon.
"We at UTSA are delighted to be the second world venue for the exhibit, which is curated by our esteemed colleague in the arts community, Dr. Kevin Concannon from the University of Akron, the only other site of the exhibit," said Scott Sherer, UTSA assistant professor of art and art history and gallery director. "This work demonstrates that, prior to their personal and artistic partnership begun in May 1968, both Ono and Lennon worked with universal themes of love and peace."
Three additional events will be presented in conjunction with the exhibition:
Kevin Concannon, University of Akron associate professor of art history, will speak on "Yoko Ono: Imagining Peace, 1966-2007" at 6 p.m., Wednesday, Sept. 26 in the Arts Building Recital Hall, UTSA 1604 Campus. A reception will follow.
Free showings of the film, "The U.S. vs. John Lennon," are 6 p.m., Monday, Oct. 1 in the University Center Retama Auditorium (2.02.02), 1604 Campus, and 7 p.m., Thursday, Oct. 11 in the Buena Vista Theater, Downtown Campus.
Ken Little, UTSA professor of art and art history, will perform "Yoko Ono Cut Piece" at 7 p.m., Friday, Oct. 26 at the Buena Vista Street Building Aula Canaria (1.328), Downtown Campus.
As part of the exhibit, nine bilingual billboards were placed around the San Antonio metropolitan area with the message, "Imagine Peace/Imagínate La Paz."
On Oct. 9, Ono will unveil the nearly 30-meter-tall Imagine Peace Tower in Reykjavik, Iceland, in honor of what would have been Lennon's 67th birthday. Lennon was shot and killed in December 1980 in front of his Manhattan apartment building. The Iceland tower will beam the message, "I Love You," across the universe, according to the artist. Ono will not attend the San Antonio exhibition because of preparation for the tower unveiling.
During Lennon's time with The Beatles rock band, the couple became known for promoting world peace, specifically during the Vietnam War. One of their better-known acts of civil disobedience or peaceful public protest was their "bed-in." One of their popular songs was "Give Peace a Chance."
Those themes are relevant nearly 40 years later, said San Antonio Express-News art critic Dan Goddard, who interviewed Ono by telephone on Sept. 20. Ono told him she and Lennon conceived of the tower early in their relationship, but the technology -- used in the 9/11 memorial -- was not available then.
"She thinks we still need to imagine peace, and that art and music are powerful ways to communicate that," Goddard said, adding that Ono has traveled to more than 400 cities collecting "wishes" for peace. Those messages will be stored in a time capsule when the tower is activated.
Conceptual art is sometimes difficult for viewers to understand when they get close to art and "lose the safety and security of distanced observation," said Sherer. "Like performance artists who experiment with the mind and the body as an indissoluble unit, conceptual artists produce work that demands a degree of vulnerability when its themes enter into one's psyche."
"'Imagine Peace' crosses boundaries between private thought and public responsibility," he added. "Her use of billboards reaches many individuals, notwithstanding the fortification of the car and its speed, especially in cities which are so indebted to car culture."
UTSA Gallery hours are 10 a.m.-4 p.m., Monday-Friday, and 1-4 p.m. Saturday and Sunday. For more information, visit the Department of Art and Art History Web site.
Download a "Yoko Ono Imagine Peace" flier with a UTSA 1604 Campus map and billboard locations.
-----------------------------------------
"Yoko Ono Imagine Peace: Featuring John & Yoko's Year of Peace" is organized by the Mary Schiller School of Art, The University of Akron.