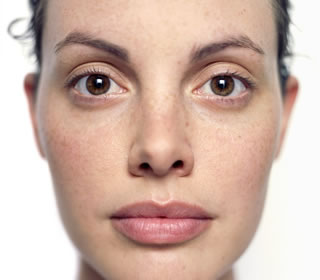 Top: "Katrina Head" by Denny Renshaw
Bottom: "Hives" by Nate Cassie
UTSA Satellite Space presents 'A Quiet' exhibit
By Tim Brownlee
Assistant Director of Public Affairs
(Sept. 20, 2007)--The UTSA Department of Art and Art History hosts an exhibit of photographic and installation art, "A Quiet," from noon to 6 p.m., Friday-Sunday, Sept. 21-23 at the UTSA Satellite Space in Blue Star Arts Complex Suite 115 at S. Alamo and Probandt streets.
Free and open to the public, the exhibit includes selected works of J.R. Bruce, Nate Cassie, M.F.A., '95, Alex Lopez, M.F.A., '98, Karen Mahaffy, M.F.A., '96, Sarah Moore, B.F.A., '05, and Denny Renshaw. According to exhibit curator Brian Jobe, M.F.A., '06, their art "contemplates subtle variations that give character and vitality to life."
---
Today's headlines
Article tools
---
J.R. Bruce (St. Petersburg, Fla.) constructs corridors of hanging Plexiglas panels to create an "Army of Braille," inviting participants to investigate its complex tactile nature. Nate Cassie (San Antonio) cultivates a delicate landscape of ceramic beehive forms, evoking a contemplation of chance within natural events. In his video installation, Alex Lopez (Carbondale, Ill.) portrays a bird in flight with simple, haunting silhouettes reminiscent of Rorschach tests.
In an intimate video installation, Karen Mahaffy (San Antonio) mixes elements of shadow play and household objects to uncover a sense of order and depth within pattern. Sarah Moore (San Antonio) commands one of the gallery's smaller rooms with an installation that focuses on repetition as a gesture to highlight slight variations. Denny Renshaw (Brooklyn, N.Y.) offers five close-up photo portraits of different human faces, which reveal the moments amid speech and silence.
For more information or to arrange a private showing, call (210) 212-7146 or (210) 458-4391.