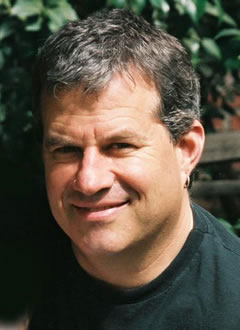 Author Sam Quinones and new book
UTSA hosts lecture by writer Sam Quinones
By Lesli Hicks
Special Projects Writer, M.A. '07
(Sept. 17, 2007)--The UTSA Department of Communication will host author and journalist Sam Quiñones, who will discuss his new book, "Antonio's Gun and Delfino's Dream: True Tales of Mexican Migration," at 2 p.m., Wednesday, Sept. 19 in Business Building Room 3.03.02 on the UTSA 1604 Campus. The lecture is free and open to the public.
---
Today's headlines
Article tools
---
The lecture also will be webcast.
Freelance journalist Sam Quiñones is a staff writer for the Los Angeles Times and has contributed stories to the Baltimore Sun, the Houston Chronicle and the San Francisco Chronicle. He also wrote "True Tales from Another Mexico: The Lynch Mob, the Popsicle Kings, Chalino and the Bronx."
Quinones' roots in literature and education are deep. His father was a literature professor and his mother an elementary school teacher in Claremont, Calif., where he was raised. A 1982 graduate of the University of California-Berkeley with bachelor's degrees in economics and American history, Quinones became an itinerate café guitar player in Europe and traveled to Israel to work and live in a kibbutz.
His journalism career began in San Francisco, expanding into an assignment reporting on politics in Costa Mesa. Suburban sprawl took him to the Orange County Register, and in 1988, he began covering crime at the Stockton Record including the rising use of "crack" against a backdrop of gang violence.
Quiñones' last newspaper job before going to Mexico was with the Tacoma News-Tribune, covering Seattle news. He went to Mexico, "so far from God, so close to the United States," in 1994 to learn Spanish. His first writing job there with the general interest magazine Mexico Insight ended with their bankruptcy following the December 1994 peso devaluation.
The writer stayed in Mexico and delved into its rural life, where for a decade he documented the social and economic impact of migration on the country, writing a variety of articles for many major newspapers and books along the way.
The Los Angeles Time Book Review said of Quiñones, "Over the last 15 years, he has filed the best dispatches about Mexican migration and its effects on the United States and Mexico, bar none... His prose is descriptive but terse, devoid of the flowery metaphors that can plague literary journalism."
The San Francisco Chronicle Book Review said, "[Quinones'] new book... singles him out as the most original American writer on the border and Mexico out there. "Antonio's Gun and Delfino's Dream" is journalism that doesn't reply or expand on the clichéd or stereotyped stories of the exotic border... Genuinely original work, what great fiction and nonfiction aspire to be."
Publishers Weekly said Quiñones' new book is "... a keen look at the migrant economy... [in] nine skillful, moving stories. Quinones layers with the sociological, economic and historical context of 60 years of immigration... [in these] very fine pieces of literary journalism."
"Antonio's Gun and Delfino's Dream" is available in bookstores or from UNM Press.