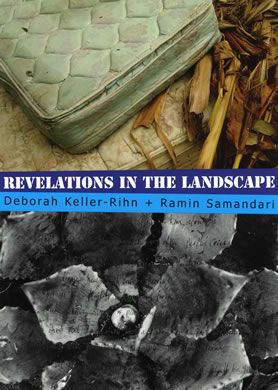 Photo from the series, "Hidden in Middens: What Remains
We Are," by Deborah Keller-Rihn (top) and photo from the
series, "Les Fleurs du Mal (Flower of Evil)," by Ramin
Samandari
UTSA photo exhibit runs through Oct. 15
By Tim Brownlee
Assistant Director of Public Affairs
(Sept. 13, 2007)--UTSA hosts the photography exhibit, "Revelations in the Landscape," through Oct. 13 at the UTSA Downtown Art Gallery in the Durango Building, 501 W. Durango Blvd. The exhibition features works of Deborah Keller-Rihn and Ramin Samandari.
The exhibited was curated by Arturo Almeida, UTSA art specialist and curator of the UTSA Art Collection.
---
Today's headlines
Article tools
---
An opening reception, free and open to the public, is 5-7 p.m., Thursday, Sept. 13. Regular gallery hours are 8 a.m.-5 p.m., Monday-Friday.
The exhibit photos by the husband-and-wife team were inspired by the natural world and the nature of the human heart.
Keller-Rihn's work was inspired by walks in her Fredericksburg neighborhood as residents placed things at the curb for trash pick-up. According to Keller-Rihn, the things we discard form interesting compositions and reveal much about us. In his selections for the exhibit, Samandiri creates surreal, ethereal images inspired by Charles Baudelaire's dark poetry and prose. He superimposes excerpts from the poetry onto otherworldly photographs of exotic, ancient plant forms.
"UTSA is pleased to present the work of these local artists," said Almeida. "We have some pieces by Ramin Samandari in the UTSA Art Collection and we are looking at Deborah Keller-Rihn's work for additions to the collection. Both Ramin and Deborah have worked closely with students and the community, and this exhibit is a way to thank them for their art and to further UTSA's mission of community outreach."
For more information, contact Arturo Almeida at (210) 458-4983.