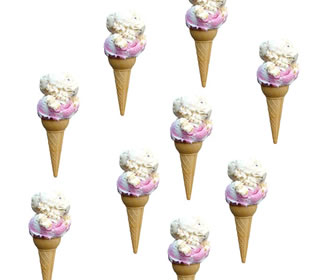 Sweet deal: UTSA ice cream socials kick off SECC
By Lynn Gosnell
Special Projects Writer
(Sept. 26, 2007)--Beginning Monday, Oct. 1, UTSA staff and faculty will have the opportunity to contribute to the State Employee Charitable Campaign (SECC). Running Oct. 1-19, the campaign benefits some 500 nonprofit agencies that provide social, health, environmental, arts and education services on a local, state, national and international level.
"SECC is a great way for UTSA to give back to the community," said UTSA President Ricardo Romo. "I encourage UTSA faculty and staff members to participate in any amount they are comfortable with. As they say, don't give until it hurts... give until it feels good."
---
Today's headlines
Article tools
---
To get the 2007 SECC off to a "sweet" start, UTSA faculty and staff members are invited to ice cream socials Oct. 1-3 at the UTSA campuses and University Heights. Representatives from United Way will be available to discuss the people and agencies that benefit from the campaign.
----------------------------------------
SECC Kickoff Rallies and Ice Cream Socials
Monday, Oct. 1, 3:30 p.m.
University Center Laurel Room (2.01.28), 1604 Campus
Tuesday, Oct. 2, 1 p.m.
University Heights Room 1.106
Tuesday, Oct. 2, 3:30 p.m.
Durango Building Southwest Room (1.124), Downtown Campus
Wednesday, Oct. 3, 2:30 p.m.
Institute of Texan Cultures Connally Room
----------------------------------------
Did you know?
Dozens of local agencies are represented in SECC, such as the Humane Society/SPCA of Bexar County, the Children's Shelter and the San Antonio Food Bank, to name just a sample.
Last year, 1,903 UTSA employees contributed more than $225,000 to a variety of charities. In 2006, more than 350 members of UTSA families were assisted by SECC-supported agencies.
Many statewide agencies receive SECC contributions, such as Special Olympics Texas, Lady Bird Johnson Wildflower Center and the Texas chapter of the National Alliance on Mental Illness.
On a national level, individuals can contribute to organizations as diverse as the Make a Wish Foundation, Alzheimer's Foundation of America, Juvenile Diabetes Research Foundation, Doctors Without Borders, Heifer International and many more.