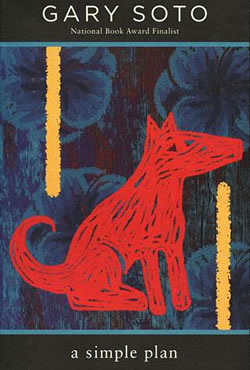 Gary Soto and new book
UTSA hosts reading by renowned children's writer
By Shelley Kilpatrick
Student Writer, College of Liberal and Fine Arts
(Sept. 28, 2007)--The UTSA Academy for Teacher Excellence will host children's writer Gary Soto, reading from his new collection of poetry for adults, "A Simple Plan" at 6:30 p.m., Thursday, Oct. 4 in the University Center Retama Auditorium (2.02.02), 1604 Campus. The event is free and open to the public.
---
Today's headlines
Article tools
---
The renowned poet, essayist and novelist also will read from his earlier works including "Junior College" and a one-act play, "Nerdlandia." Soto will be available after the reading to sign books.
In "A Simple Plan", the poet returns to his favorite themes of place, childhood and kinship with the down-and-out. Soto's most recent works include "Petty Crimes," "The Afterlife" and "Jesse."
Soto was born and raised in Fresno, Calif., and now lives in Berkeley. Unlike many authors, he never thought about becoming a writer when he was a child. Instead, he wanted to be a priest or a paleontologist -- a scientist who studies fossils and bones. But when he was in college, he came across a book of poetry, liked it, started writing poems and has been a writer ever since.
He is the author of 10 poetry collections for adults, most notably "New and Selected Poems," a 1995 finalist for both the Los Angeles Times Book Award and the National Book Award. His poems have appeared in many literary magazines, including The Nation, Plouqhshares, The Iowa Review, Ontario Review and most frequently, Poetry, which honored him with the Bess Hokin Prize and the Levinson Award and featured him in Poets in Person. He is one of the youngest poets to appear in "The Norton Anthology of Modern Poetry."
For more information, contact Miriam Martinez at (210) 458-5971.