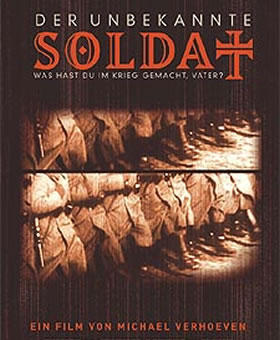 Director Michael Verhoeven and poster for his film,
"Der unbekannte Soldat" (The Unknown Soldier)
German director speaks Sept. 17 at UTSA
By Lesli Hicks
Special Projects Writer, M.A. '07
(Sept. 12, 2007)--German film director Michael Verhoeven will speak at 11 a.m., Monday, Sept. 17 in the University Center Laurel Room (2.01.28) on the UTSA 1604 Campus. Sponsored by the UTSA Department of Modern Languages and Literatures and the College of Liberal and Fine Arts, the lecture is free and open to the public.
Verhoeven's UTSA lecture is in conjunction with the free San Antonio European Film Festival running Sept. 17-20 at the Palladium cinema at The Rim shopping center. The director also will participate in a panel discussion at the festival.
---
Today's headlines
Article tools
---
Verhoeven was born in 1938 in Berlin into a film directing and acting family. He completed his medical studies in 1969 earning an M.D. degree, but even as a teenager he was involved as an actor in stage and screen projects. He made his debut as a stage director in 1962.
In l966 he married actress Senta Berger, who has played the lead in a number of his films. Together they founded the Sentana Film Production Co.
In l967, Verhoeven directed his first feature film, "Paarungen" (Making It), based on Strindberg's "Dance of Death." He lives in Munich (Gruenwald) and Berlin.
Among his awards are best director in the 1990 Berlin Film Festival and the French Critics Award for "Sonntagskinder" (Sunday's Children) in 1981. His film, "The Nasty Girl," was nominated for the best foreign film Academy Award.
Verhoeven is perhaps best known for his film, "The White Rose" (1982). His films include "Wer im Glaushaus liebt" (People Who Live in Glass Houses), 1971; "Ein unheimlich starker Abgang" (Sonja Gets Rid of Reality or A Terrific Exit), 1973; and "Der unbekannte Soldat" (The Unknown Soldier), documentary, 2007.
For more information, contact Christopher Wickham at (210) 458-4350.
------------------------------------------