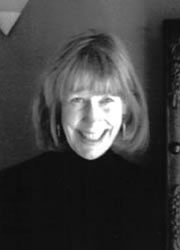 Wendy Barker
Professor earns Violet Crown Book Award in Poetry
By Tanya Hulbert
Student Writer, College of Liberal and Fine Arts
(Oct. 31, 2007)--Wendy Barker , UTSA professor of English and poet in residence, was named the winner of the 2007 Violet Crown Book Award in Poetry from the Writer's League of Texas for her latest collection "Between Frames" (Pecan Grove, 2006).
"This is the second time I've won this distinction," said Barker. "This is really nice news" In 2000, she received the award for her third full-length collection of poems, "Way of Whiteness" (Wings Press, 2000).
---
Today's headlines
Article tools
---
The award will be presented Nov. 3 at the Texas Book Festival (http://www.texasbookfestival.org) , and includes a $1,000 prize. The Writers' League of Texas, founded in 1981, is a nonprofit professional organization whose primary purpose is to provide a forum for information, support and sharing among writers to help members improve and market their writing skills and to promote the interests of writers and the writing community.
Barker has published four full-length collections of poetry, including "Poems from Paradise" (2005), "Let the Ice Speak" (1991) and "Winter Chickens" (1990), as well as two chapbooks, "Eve Remembers" (1996) and "Between Frames" (2006).
A selection of poems accompanied by autobiographical essays, "Poems' Progress," were published in 2002, and her translations (with Saranindranath Tagore) from the Bengali of India's Nobel Prize-winning poet, "Rabindranath Tagore: Final Poems" (2001), received the Sourette Diehl Fraser Award from the Texas Institute of Letters.
Barker's books in progress include "Rabindranath Tagore: The Complete Final Poems" (translations, with Saranindranath Tagore), "Raveled Threads" (a collection of personal essays) and "Weather" (a collection of poems).
For more information, visit the Writer's League of Texas Web site.