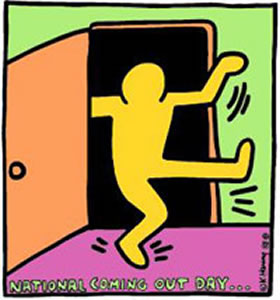 UTSA hosts GLBTQ Pride Month events, workshops
By M. David Kessler
Academic Adviser, College of Liberal and Fine Arts Advising Center
(Oct. 10, 2007)--The UTSA Inclusion and Community Engagement Center, UTSA Lambda Alliance and UTSA Allies Program will host events at the 1604 and Downtown campuses throughout October as part of Gay, Lesbian, Bisexual, Transexual and Questioning (GLBTQ) Pride Month. Free and open to the public, the events foster awareness of GLBTQ issues and concerns.
Download a schedule of GLBTQ Pride Month events at the UTSA 1604 and Downtown campuses (pdf document).
---
Today's headlines
Article tools
---
On National Coming Out Day (NCOD), Thursday, Oct. 11, there will be an information fair from 11 a.m to 1 p.m. at Sombrilla Plaza on the 1604 Campus. NCOD is an international event that gives gay, lesbian and bisexual people the opportunity to "come out" to others about their sexuality. It also provides a means of increasing the visibility of gay people. In the United States, the day is facilitated by the Human Rights Campaign's National Coming Out Project (NCOP). Many communities and college campuses sponsor activities such as dances, film festivals, workshops, literature booths and rallies on NCOD.
The first NCOD was Oct. 11, 1988. The date was chosen for the annual event in commemoration of the 1987 March on Washington for Lesbian and Gay Rights. It also marks the anniversary of the first visit of the AIDS Memorial Quilt to Washington, D.C.
Each semester, the Allies Program hosts training sessions for members of the UTSA community interested in joining the organization and being a visible GLBTQ ally or those interested simply in furthering their knowledge of GLBTQ issues. The Allies Program was established in 2005 with the support of the UTSA vice president for student affairs and other UTSA community members. The program seeks to empower administrators, faculty, staff and students to create and maintain a welcoming and inclusive environment for all GLBTQ members of the UTSA community.
Allies can post a placard, wear a lapel pin or display the Allies Program logo to show that they or their office, classroom or residence is a supportive, nonjudgmental environment where everyone will be respected regardless of their sexual orientation or gender identity and expression.
While the organization is not affiliated with any office, more information is available from the UTSA Counseling Services Web site. Visit the Allies Program blog for information on events relevant to the GLBTQ community.
-----------------------------------------
UTSA Allies Program training and educational programs
Webcast: The Lives of Transgender People Today
Tuesday, Oct. 16, 2:30-4 p.m.
Frio Street Building Room 2.518
(1604 Campus presentation TBA)
The Allies Program will host the webcast produced by the National Association of Student Personnel Administrators (NASPA). Sue Rankin (Penn State University) and Brett-Genny Janiczek Beemyn (University of Massachusetts-Amherst) willl discuss the first national study of transgender people in the United States.
Allies Program Training
Wednesday, Oct. 24, 11:30 a.m.- 2:30 p.m., Downtown Campus
Wednesday, Nov. 7, 2-5 p.m., Downtown Campus
Friday, Nov. 16, noon-3 p.m., 1604 Campus
The introductory training is for students, staff, faculty and administrators. Attendees have the option of joining the training program at the end of the session. E-mail David Kessler for training session locations.
Webcast: Out of the Closet and Into the Cabinet: LGBT Professional Development and Promotion
Tuesday, November 27, 2:30-4 p.m.
Business Building Room 3.04.08, 1604 Campus and
Frio Street Building Room 2.518, Downtown Campus
The Allies Program hosts the webcast produced by NASPA. Kristen Renn, associate professor of higher, adult and lifelong education at Michigan State University, will discuss issues faced by LGBTQ student affairs professionals as they rise through the ranks of university administration. In 2003, Renn presented this information in an article in NASPA's Leadership Exchange, interviewing LGBT senior student affairs officers. Renn will be joined by some of these student affairs professionals in a conversation to assist LGBT professionals and their supervisors in creating the best climate for advancement in student affairs.